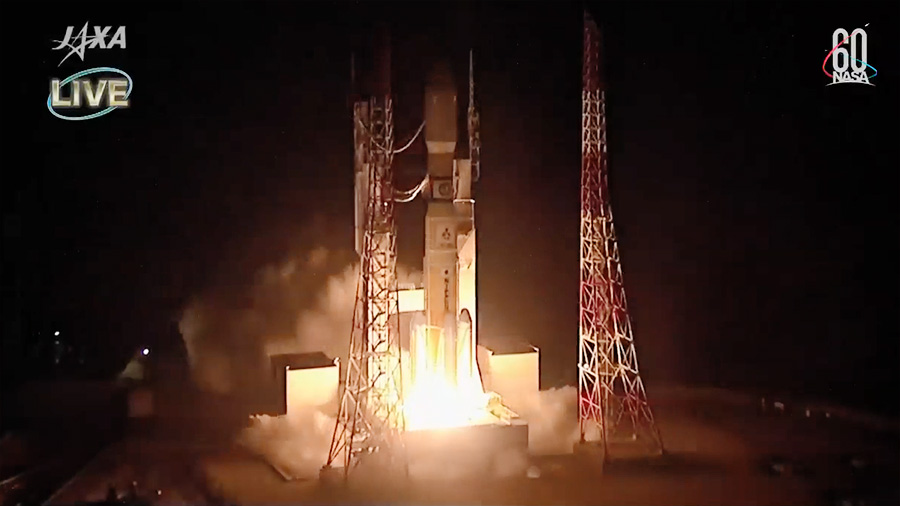 The Japan Aerospace Exploration Agency (JAXA)'s H-IIB rocket launched at 1:52 p.m. EDT on Saturday, Sept. 22 (2:52 a.m. Sept. 23 Japan standard time) from the Tanegashima Space Center in southern Japan. At the time of launch, the space station was 254 miles over the southwest Pacific, west of Chile.
A little more than 15 minutes after launch, the unpiloted H-II Transfer Vehicle-7 (HTV-7) cargo spacecraft successfully separated from the rocket and began its four-and-a-half rendezvous with the International Space Station.
On Thursday, Sept. 27, the HTV-7 will approach the station from below and slowly inch its way toward the orbiting laboratory. Expedition 56 Commander Drew Feustel and Flight Engineer Serena Auñón-Chancellor of NASA will operate the station's Canadarm2 robotic arm to capture the spacecraft as it approaches. Flight Engineer Alexander Gerst of ESA (European Space Agency) will monitor HTV-7 systems during its approach. Robotic ground controllers will then install it on the Earth-facing side of the Harmony module, where it will remain for several weeks.
NASA TV coverage of the Sept. 27 rendezvous and grapple will begin at 6:30 a.m. ET. Capture is scheduled for approximately 8:00 a.m. After a break, NASA TV coverage will resume at 10:30 a.m. for spacecraft installation to the space station's Harmony module.
In addition to new hardware to upgrade the station's electrical power system, the HTV-7 is carrying a new sample holder for the Electrostatic Levitation Furnace (JAXA-ELF), a protein crystal growth experiment at low temperatures (JAXA LT PCG), an investigation that looks at the effect of microgravity on bone marrow (MARROW), a Life Sciences Glovebox, and additional EXPRESS Racks.
For updates about the crew's activities on the unique orbiting laboratory, visit: https://blogs.nasa.gov/spacestation/. Get breaking news, images and features from the station on Instagram at: @iss and on Twitter @Space_Station and @ISS_Research.