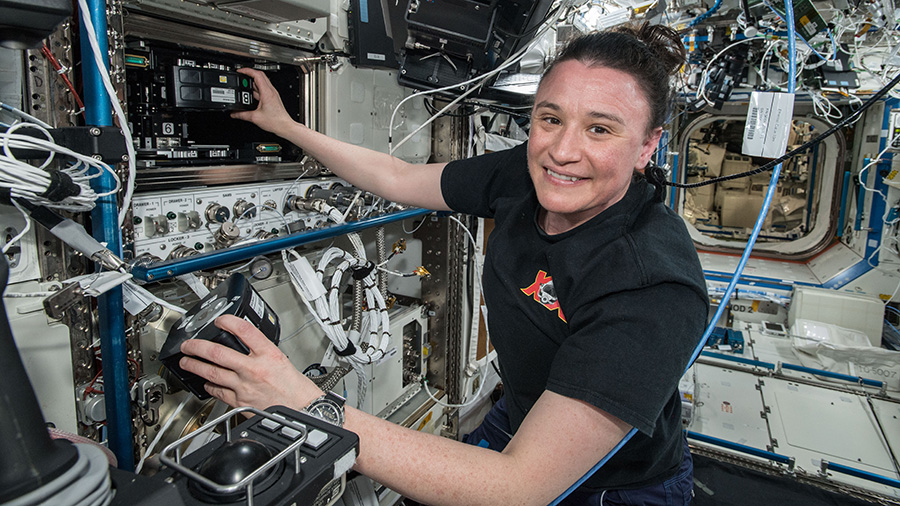 A Russian spacewalk is planned before three Expedition 57 crew members return to Earth aboard a Soyuz spacecraft just before Christmas. Meanwhile, in the middle of the spacewalk and departure preparations, the International Space Station residents today also explored how living in space impacts the human muscle system.
Flight Engineer Sergey Prokopyev will work outside the space station Dec. 11 to inspect the Soyuz MS-09 crew vessel. The Russian spacewalker will join veteran cosmonaut Oleg Kononenko for a scheduled 6-hour inspection on the outside of the spaceship that will return the Expedition 57 crew home Dec. 19 U.S. time.
Prokopyev checked the Orlan spacesuits today that he and Kononenko will wear during the eighth spacewalk of the year. Expedition 57 Commander Alexander Gerst and Flight Engineer Serena Auñón-Chancellor assisted Prokopyev checking the Russian spacesuits for leaks.
Gerst and Auñón-Chancellor then moved on to a study that has been ongoing aboard the orbital lab since September of 2017 observing how muscles adapt to outer space. The duo set up the Columbus lab module for research operations and scanned their head and foot muscles with an ultrasound device. The data may help doctors improve fitness in space and develop treatments for muscle and aging problems on Earth.
Back on Earth, on opposite sides of the globe, a pair of rockets are getting ready to send a new crew and more science and supplies to the space station. Russia's Soyuz MS-11 spacecraft will launch Kononenko and fellow crew members Anne McClain and David Saint-Jacques from Kazakhstan to the station on Monday at 6:31 a.m. EST. The following day at 1:38 p.m. in Florida, the SpaceX Dragon will blast off to the station to deliver more than 5,600 pounds of cargo to resupply the station residents.