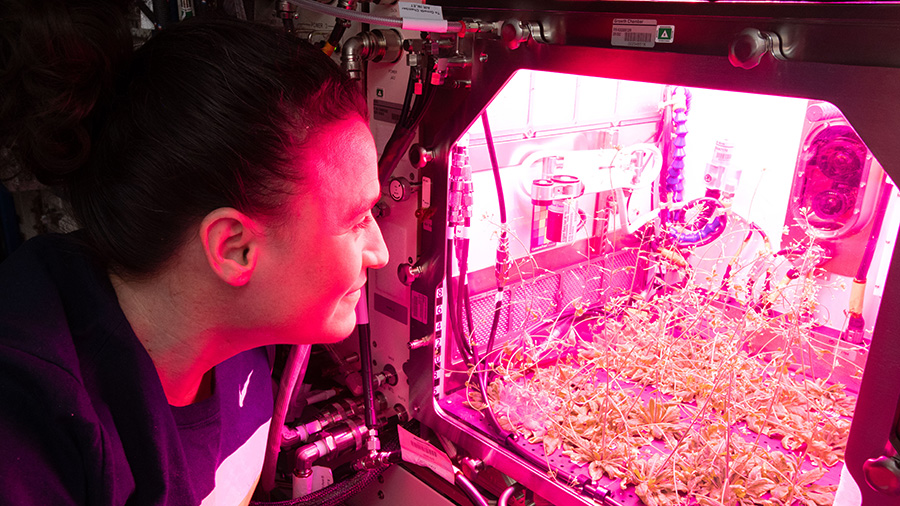 A crew of three from around the world are heading into the weekend aboard the International Space Station. The Expedition 57 trio from the United States, Russia and Germany studied a variety of space phenomena today including physics, biology and time perception.
Flight Engineer Serena Auñón-Chancellor joined Commander Alexander Gerst for eye checks first thing Friday morning. The duo then split up for a science-filled day and preparations for the next U.S. cargo mission.
Serena spent most of the day in the Japanese Kibo lab module mixing protein crystal samples and stowing them in an incubator for later analysis. She moved on to a little space gardening for the VEG-03 study before stowing gear that sequences ribonucleic acid, or RNA, from unknown microbes living in the station.
Serena also found time to set up a command panel for communications with a Cygnus cargo craft when it arrives to resupply the station Nov. 18. The resupply ship from U.S. company Northrop Grumman is being packed and readied for launch atop an Antares rocket Nov. 15 at 4:49 a.m. EST. from Wallops Flight Facility in Virginia.
Gerst spent over an hour in the European Columbus lab module today researching how astronauts perceive time in space including its physical and mental impacts. The German astronaut from ESA (European Space Agency) also configured a specialized microscope for more protein crystal observations.
Flight Engineer Sergey Prokopyev from Roscosmos continued his week-long research exploring complex plasmas, or ionized gases produced by high temperatures. The Russian experiment may benefit space physics research and improve spacecraft designs. The cosmonaut also swapped fuel bottles inside the Combustion Integrated Rack to maintain ongoing flame and gas research aboard the station.