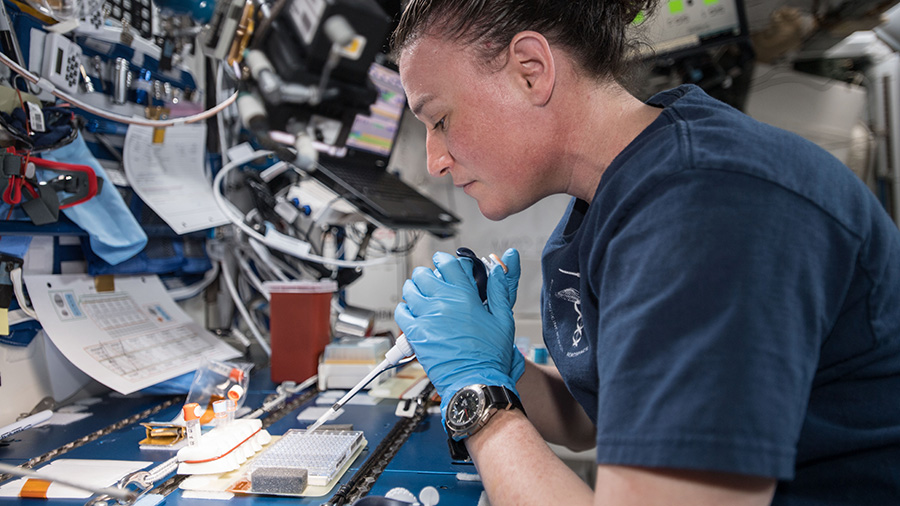 December is shaping up to be a heavy traffic period at the International Space Station. Two crews will swap places before Christmas and a U.S. spaceship will deliver new supplies and science. A Russian spacewalk is also planned for a crew vehicle inspection.
The Expedition 57 crew onboard the station today continued preparing for the upcoming missions while researching space science. Commander Alexander Gerst cleaned cooling loops in U.S. spacesuits as Flight Engineer Sergey Prokopyev prepared the Soyuz MS-09 crew vessel for next month's undocking. Astronaut Serena Auñón-Chancellor worked on commercial science gear, semiconductor crystal observations and space gardening.
Monday and Tuesday are launch days for a new crew and a cargo delivery. Two new astronauts and a veteran cosmonaut are set to blast off first on Monday at 6:31 a.m. EST aboard the Soyuz MS-11 spacecraft. Soyuz Commander Oleg Kononenko flanked by new Expedition 58 Flight Engineers Anne McClain and David Saint-Jacques will dock to the station's Poisk module just six hours and five minutes later.
The very next day, the SpaceX Dragon commercial resupply ship will launch on its 16th mission to the orbital laboratory with a variety of new science experiments at 1:38 p.m. Dragon will orbit Earth for two days before reaching a point about 10 meters from the station where it will be captured with the Canadarm2 robotic arm.
Following those two critical arrivals at the orbital laboratory, cosmonauts Prokopyev and Oleg Kononenko will exit the station for the third Russian spacewalk of the year on Dec. 11. The duo will wear their Orlan spacesuits for about six hours of inspection work on the Soyuz MS-09 crew craft docked to the Rassvet module.
After the vehicle inspection, the Soyuz MS-09 will return to Earth Dec. 20 bringing home the Expedition 57 crew after six and a half months in space. Auñón-Chancellor and Gerst will sit on either side of Soyuz Commander Prokopyev as he leads the trio to a parachuted landing in Kazakhstan at 12:03 a.m.