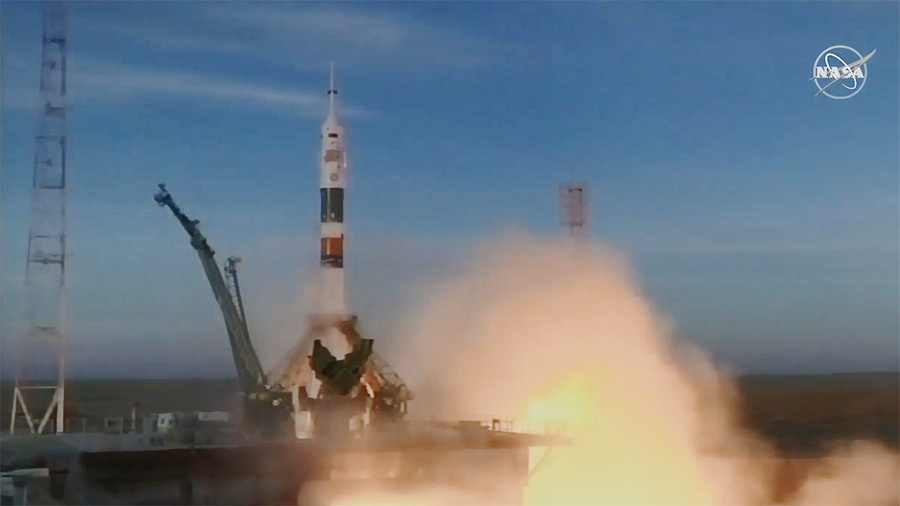 The Soyuz MS-11 launched from the Baikonur Cosmodrome in Kazakhstan to the International Space Station at 6:31 a.m. EST Monday, Dec. 3 (5:31 p.m. in Baikonur) and have safely reached orbit.  At the time of launch, the station was flying about 250 miles over central Kazakhstan southwest of the capital of Astana, 405 miles ahead of the Soyuz as it leaves the launch pad.
NASA astronaut Anne McClain, David Saint-Jacques of the Canadian Space Agency, and Oleg Konenenko of the Russian space agency Roscosmos have begun their six-hour trip to the orbital laboratory where they will live and work for the next six-and-a-half months.
The arrival will briefly restore the station's crew complement to six as they join Serena Auñón-Chancellor of NASA, Expedition 57 Commander Alexander Gerst of ESA (European Space Agency) and Sergey Prokopyev of the Russian space agency Roscosmos, who are scheduled to remain aboard the station until Dec. 20.
Just days after their arrival, the crew members will capture the SpaceX Dragon cargo resupply spacecraft set to launch Tuesday from Cape Canaveral Air Force Station and deliver more than 5,800 pounds of critical research and supplies.
At 9:30 a.m., NASA TV will broadcast from NASA's Kennedy Space Center in Florida a briefing to highlight the science and research on board the Dragon.
Following the science briefing, NASA TV will then broadcast beginning at 11:15 a.m. the arrival of the agency's first asteroid sample return mission as the OSIRIS-REx spacecraft is set to rendezvous with asteroid Bennu.
Coverage of the Soyuz docking to the International Space Station will begin on NASA TV's media channel and the agency's website beginning at 11:45 a.m. and be broadcast on all channels following the conclusion of OSIRIS-REx coverage expected at 12:15 p.m., with the spacecraft docking expected at 12:36 p.m.
Coverage of the hatch opening between the Soyuz and the space station will begin at 1:45 p.m.
For continued coverage and more information about the mission, visit: https://blogs.nasa.gov/spacestation/. Get space station news, images and features via social media on Instagram at: @iss, ISS on Facebook, and on Twitter @Space_Station and @ISS_Research.