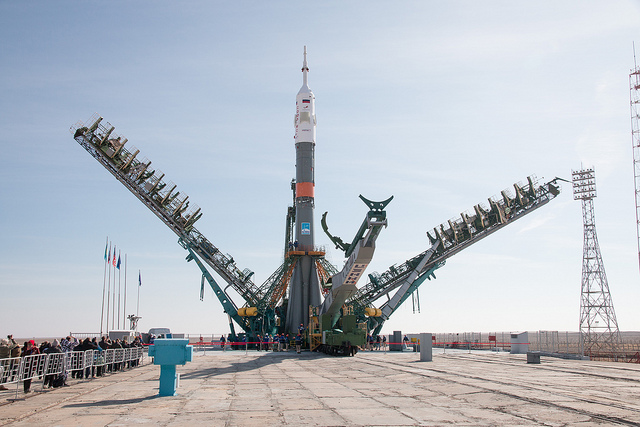 As the Soyuz MS-12 that will carry the Expedition 59 crew to the International Space Station Thursday was erected on the launch pad at the Baikonur Cosmodrome in Kazakhstan, Expedition 58 resumed research and routine maintenance after their off-duty day Monday. 
NASA astronaut Anne McClain conducted botany work with the VEG-03 experiment, which builds on what scientists have initially learned about harvesting vegetation in space with VEG-01. This time around, testing will demonstrate plant growth with a new batch of crops, including red romaine lettuce, extra dwarf Pak Choi, red Russian kale and wasabi mustard. McClain also spent time on life-support system upkeep in the Kibo lab module and maintenance in the U.S. lab on an EXPRESS rack—hardware integral to providing structural interfaces and support for science experiments with power, data, cooling, water and other items needed for successful operations. 
In the Quest airlock, Canadian Space Agency astronaut David Saint-Jacques completed additional prep work for upcoming spacewalks slated for March 22, 29 and April 8 by scrubbing cooling loops and performing leak checks on the spacesuits. After resupplying the Human Research Facility-2 rack, Saint Jacques added input to a questionnaire for Behavioral Core Measures, an investigation that seeks to create a standardized toolkit to rapidly and reliably assess the risk of adverse cognitive or behavioral conditions and psychiatric disorders that could occur with longer space missions. 
Meanwhile, Commander Oleg Kononenko from Roscosmos ticked off additional maintenance tasks by cleaning panels in the Zvezda service module and performing fluid transfers to the Progress 71 resupply ship. 
Learn more about station activities by following @space_station and @ISS_Research on Twitter, as well as the ISS Facebook and ISS Instagram accounts.