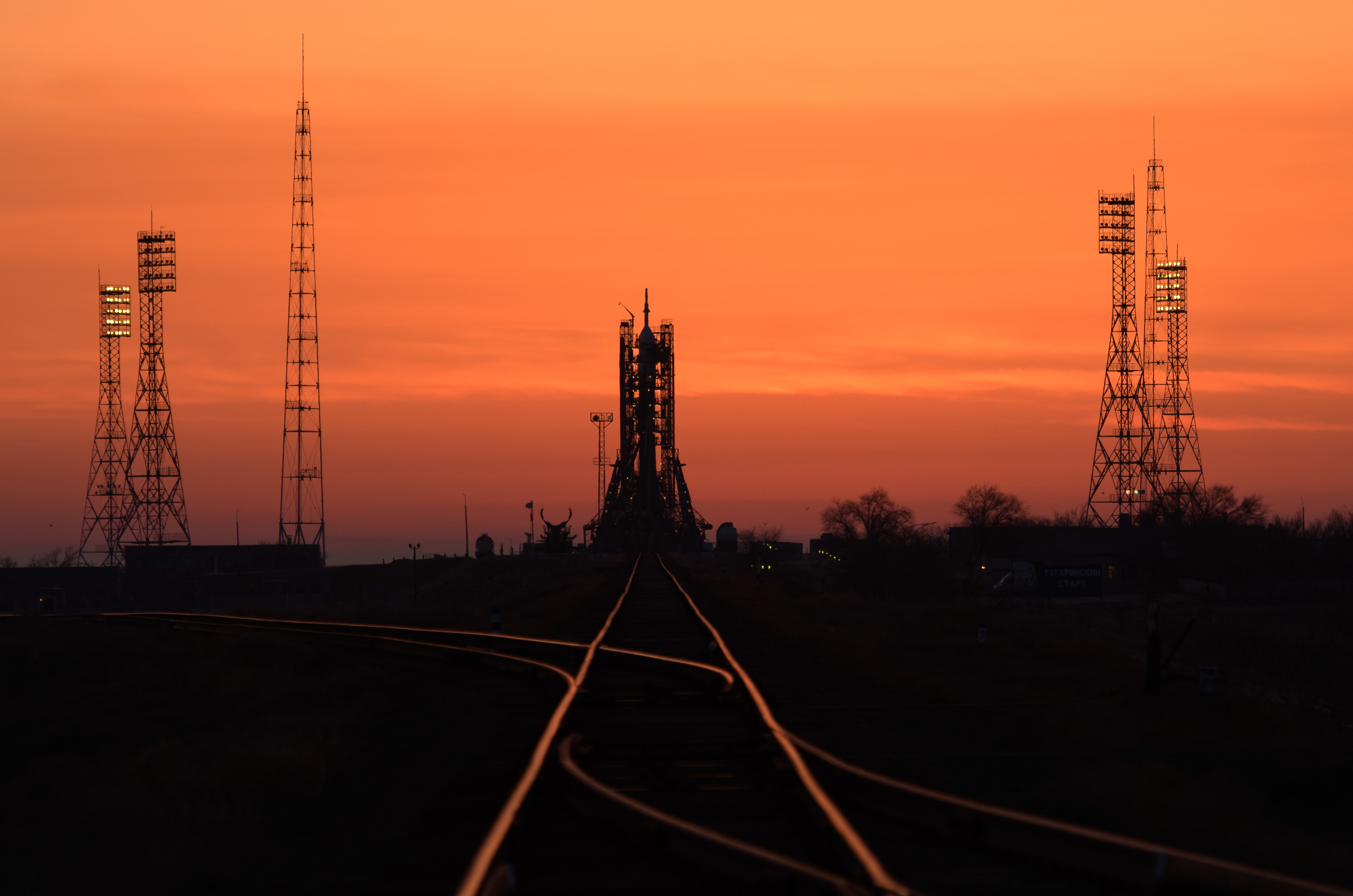 At the Baikonur Cosmodrome in Kazakhstan, teams are making final preparations for the launch of NASA astronauts Nick Hague and Christina Koch, and cosmonaut Alexey Ovchinin of Roscosmos, to the International Space Station. Their journey to the station will begin with a lift off at 3:14 p.m. EDT (12:14 a.m. March 15 Kazakhstan time). Live launch coverage will begin at 2 p.m. on NASA Television and the agency's website.
The trio's arrival will return the orbiting laboratory's population to six, including three NASA astronauts. This launch will also mark the fourth Expedition crew with two female astronauts. The three will join station commander Oleg Kononenko of Roscosmos, NASA astronaut Anne McClain, and David Saint-Jacques of the Canadian Space Agency. The new crew members will dock to the Rassvet module at 9:07 p.m. Expedition 59 will begin officially at the time of docking.
Hague and Ovchinin are completing a journey that was cut short Oct. 11, when a booster separation problem with their Soyuz rocket's first stage triggered a launch abort two minutes into the flight. They landed safely a few minutes later, after reaching the fringes of space, and were reassigned to fly again after McClain, Kononenko and Saint-Jacques launched in early December. This will be Ovchinin's third flight into space, the second for Hague and the first for Koch. Hague, Koch, and McClain are from NASA's 2013 astronaut class, half of which were women—the highest percentage of female astronaut candidates ever selected for a class.
Below is the crew's launch timeline in EDT:
Thursday, March 14
EDT              L-Hr/M/Sec    Event
6:14:09am    9:00                 Crew wakeup at Cosmonaut Hotel
9:14:09am    6:00                 Crew departs Cosmonaut Hotel
9:29:09am    5:45                 Batteries installed in booster
9:59:09am    5:15                  Crew arrives at Site 254
10:14:09am   5:00                 Tanking begins
10:44:09am  4:30                 Crew suit up
11:09:09am   4:05                 Booster loaded with liquid Oxygen
11:44:09am   3:30                 Crew meets family members on other side of the glass
12:09:09pm  3:05                First and second stage oxygen fueling complete
12:14:09pm   3:00                Crew walkout from 254 and boards bus for the launch pad
12:19:09pm   2:55                Crew departs for launch pad (Site 1)
12:39:09pm   2:35                Crew arrives at launch pad (Site 1)
12:49:09pm   2:25               Crew boards Soyuz; strapped in to the Descent module
1:39:09pm      1:35                Descent module hardware tested
1:54:09pm      1:20                Hatch closed; leak checks begin
2:00:00pm      1:14:09           NASA TV LAUNCH COVERAGE BEGINS
2:14:09pm      1:00                Launch vehicle control system prep; gyro activation
2:15:00pm        :59:09             NASA TV: Crew pre-launch activities B-roll played)
2:29:09pm     :45:00            Pad service structure components lowered
2:30:09pm     :44:00            Clamshell gantry service towers retracted
2:37:09pm     :37:00             Suit leak checks begin; descent module testing complete
2:40:09pm     :34:00            Emergency escape system armed
2:59:09pm     :15:00             Suit leak checks complete; escape system to auto
3:04:09pm     :10:00             Gyros in flight readiness and recorders activated
3:07:09pm     :07:00             Pre-launch operations complete
3:08:09pm     :06:00            Launch countdown operations to auto; vehicle ready
3:09:09pm     :05:00            Commander's controls activated
3:09:56pm       :04:13              ISS flies directly over the Baikonur Cosmodrome 
3:10:09pm      :04:00            Combustion chamber nitrogen purge
3:11:09pm       :03:00            Propellant drainback
3:11:26pm       :02:43            Booster propellant tank pressurization
3:12:39pm      :01:30             Ground propellant feed terminated
3:13:09pm       01:00             Vehicle to internal power
3:13:34pm      :00:35             First umbilical tower separates
Auto sequence start
3:13:39pm     :00:30            Ground umbilical to third stage disconnected
3:13:54pm     :00:15             Second umbilical tower separates
3:13:57pm     :00:12             Launch command issued
Engine Start Sequence Begins
3:13:59pm      :00:10            Engine turbo pumps at flight speed
3:14:04pm     :00:05            Engines at maximum thrust
3:14:09pm       :00:00            LAUNCH OF SOYUZ MS-12 TO THE ISS
3:22:54pm     +8:45               Third stage shutdown; Soyuz orbital insertion
For launch coverage and more information about the mission, visit: space station blog, @space_station and @ISS_Research on Twitter as well as the ISS Facebook and ISS Instagram accounts.