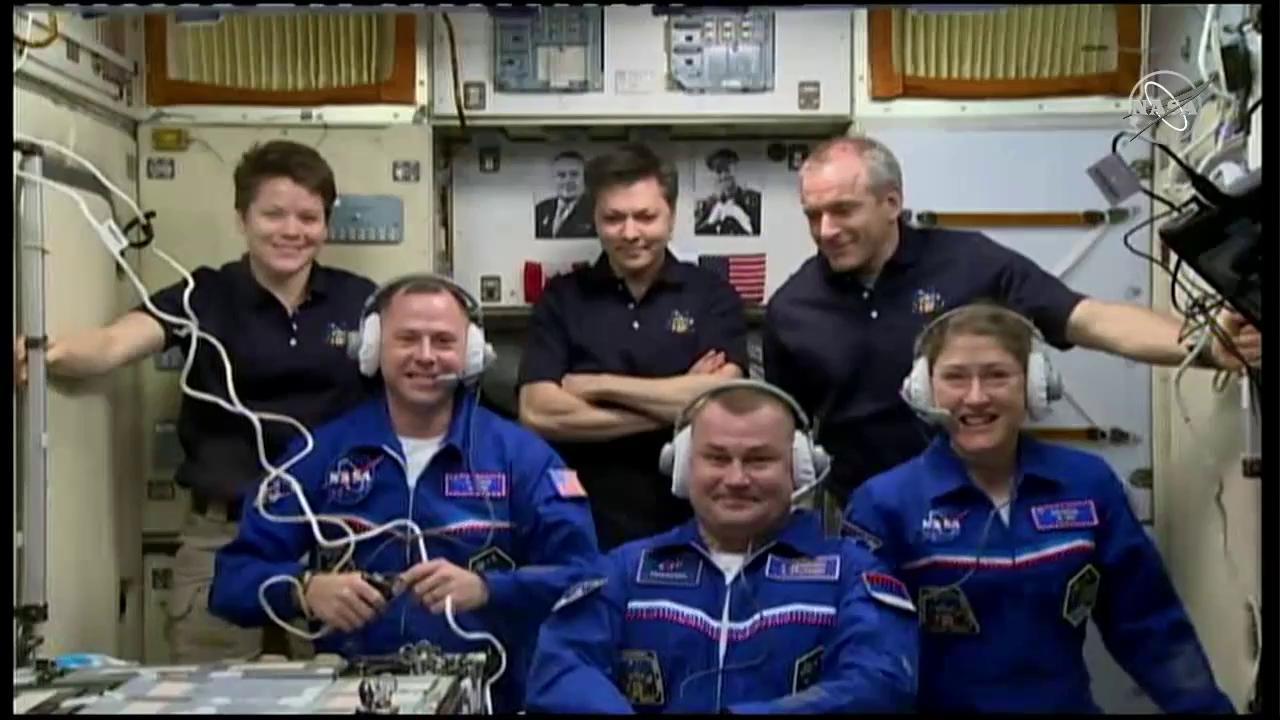 NASA astronauts Nick Hague and Christina Koch, and cosmonaut Alexey Ovchinin of Roscosmos joined NASA astronaut Anne McClain, Expedition 59 commander Oleg Kononenko of Roscosmos, and David Saint-Jacques of the Canadian Space Agency aboard the International Space Station when the hatches between the Soyuz spacecraft and the orbiting laboratory officially opened at 11:07 p.m. EDT.
The trio's arrival returns the orbiting laboratory's population to six, including three NASA astronauts. McClain, Saint-Jacques and Kononenko are scheduled to remain aboard the station until June, while Hague, Koch and Ovchinin are set to return to Earth early this fall.
McClain, Saint-Jacques, Hague and Koch also are all scheduled for the first spacewalks of their careers to continue upgrades to the orbital laboratory. McClain and Hague are scheduled to begin work to upgrade the power system March 22, and McClain and Koch will complete the upgrades to two station power channels during a March 29 spacewalk. This will be the first-ever spacewalk with all-female spacewalkers. Hague and Saint-Jacques will install hardware for a future science platform during an April 8 spacewalk.
Three resupply spacecraft – a Russian Progress, Northrop Grumman Cygnus and SpaceX Dragon – are scheduled to arrive with additional supplies for the crew and various science investigations. The crew also is scheduled to be onboard during test flights of NASA's Commercial Crew Program, which will return human spaceflight launches for space station missions to U.S. soil.
For more than 18 years, humans have lived and worked continuously aboard the station, advancing scientific knowledge and demonstrating new technologies, making research breakthroughs not possible on Earth that will enable long-duration human and robotic exploration into deep space, including the Moon and Mars. A global endeavor, 236 people from 18 countries have visited the unique microgravity laboratory that has hosted more than 2,500 investigations from researchers in 106 countries. Investigations conducted on the International Space Station impact the daily lives of people on Earth and prepare the way for humans to venture farther into space.
Learn more about station activities by following the space station blog, @space_station and @ISS_Research on Twitter as well as the ISS Facebook and ISS Instagram accounts.