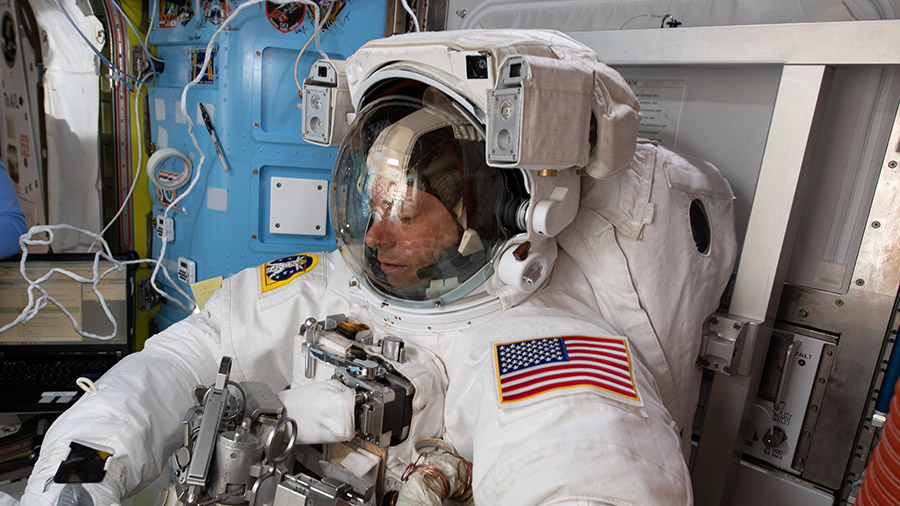 Expedition 59 Flight Engineers Nick Hague and Anne McClain of NASA will begin a spacewalk outside of the International Space Station at about 8 a.m. EDT Friday, March 22. NASA Television coverage of the spacewalk will begin at 6:30 a.m.
Watch the spacewalk on NASA TV and on the agency's website.
This will be the 214th spacewalk in support of space station assembly and maintenance. McClain will be designated extravehicular crewmember 1 (EV 1), wearing the suit with red stripes. Hague will be designated extravehicular crew member 2 (EV 2), wearing the suit with no stripes.
This is the first of two battery replacement spacewalks this month. McClain and Hague will replace nickel-hydrogen batteries with newer, more powerful lithium-ion batteries for the power channel on one pair of the station's solar arrays. The batteries were transported to the station in September aboard the Japanese H-II Transfer Vehicle. The spacewalking work continues the overall upgrade of the station's power system that began with similar battery replacement during spacewalks in January 2017.
Follow @space_station on Twitter for updates online. For more information about the International Space Station, visit www.nasa.gov/station.