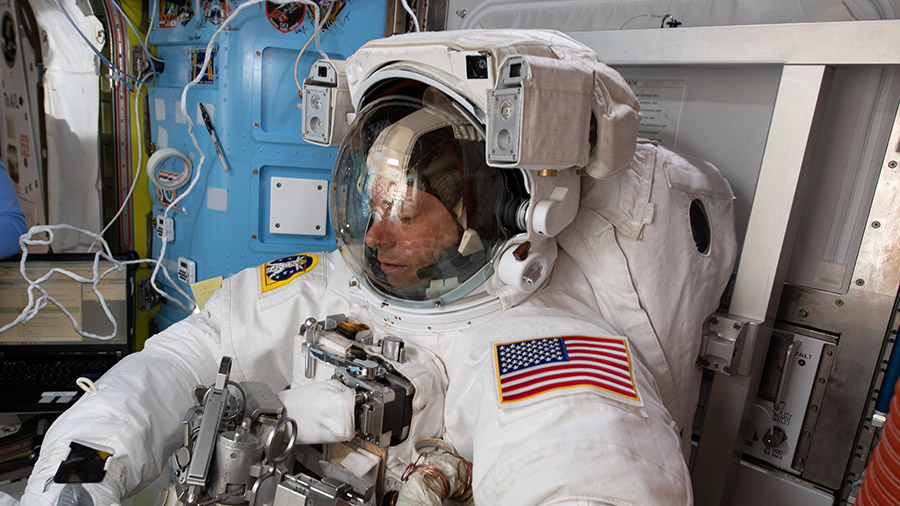 Two astronauts switched their spacesuits to battery power this morning at 8:01 a.m. EDT aboard the International Space Station to begin a spacewalk planned to last about six-and-a-half hours.
Expedition 59 Flight Engineers Nick Hague and Anne McClain of NASA will install adapter plates and hook up electrical connections for three of six new lithium-ion batteries installed on the station's starboard truss. McClain is designated extravehicular crewmember 1 (EV 1), wearing the suit with red stripes, and with the helmet camera labeled #20. Hague is designated extravehicular crew member 2 (EV 2), wearing the suit with no stripes, and with helmet camera #17.
The batteries store power generated by the station's solar arrays to provide power to the station when the station is not in the sunlight, as it orbits the Earth during orbital night. Next week, McClain and flight engineer Christina Koch are scheduled to venture outside on the March 29 spacewalk to work on a second set of battery replacements on a different power channel in the same area of the station. Additional batteries will be replaced as part of this power upgrade over the next couple of years as new batteries are delivered to station.
Watch the spacewalk on NASA TV and on the agency's website.
Follow @space_station on Twitter for updates online. Learn more about the International Space Station online, including additional information about the current crew members.