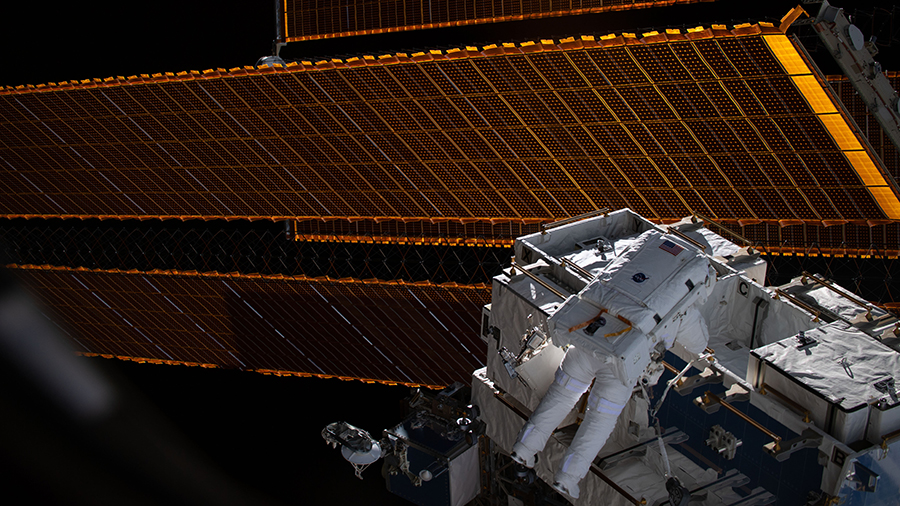 A pair of astronauts are trading places on the next two spacewalks as the Expedition 59 crew continues upgrades and maintenance outside of the International Space Station. The orbital residents are also conducting space research to improve life for humans on and off Earth.
NASA announced Monday that Flight Engineer Nick Hague is joining fellow NASA astronaut Christina Koch on this Friday's spacewalk. The duo will continue swapping old nickel-hydrogen batteries with new lithium-ion batteries on the station' Port-4 truss structure. Hague and astronaut Anne McClain performed the exact same work last week on the other side of the truss structure.
Hague is swapping places with McClain this Friday due to a spacesuit-sizing issue. McClain is tentatively planned to go outside on an April 8 spacewalk with Canadian Space Agency astronaut David Saint-Jacques. The spacewalkers will install truss jumpers to provide secondary power to the Canadarm2 robotic arm.
McClain and Hague successfully installed new lithium-ion batteries during a spacewalk on March 22. Ground teams checked out the power channel immediately after the spacewalk with no issues. Over the weekend, attempts to recharge one of the batteries were unsuccessful. Engineers on the ground are continuing to identify the cause of the issue and explore possible solutions. There has been no impact to standard space station operations.
Science work is always ongoing aboard the orbital lab with the crew researching blood flow to the brain and muscle adaptation in space.
Hague spent a couple of hours this morning in the Kibo lab module measuring his arterial blood pressure using waveform data. The results will inform the Cerebral Autoregulation experiment that observes the brain's blood vessels in microgravity.
Hague then joined Koch and collected leg, shoulder and back measurements for the Myotones muscle study in the Columbus lab module. Results could improve muscle rehabilitation techniques on Earth and in space.