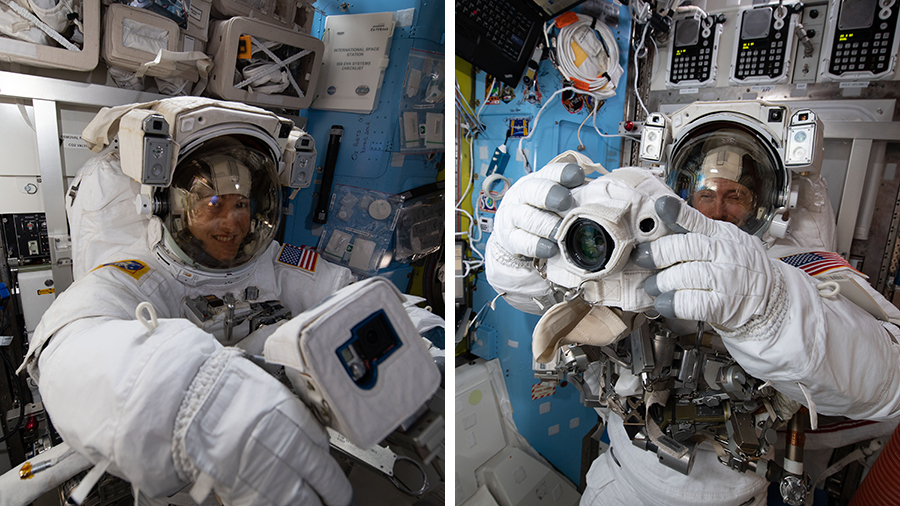 Two days away from the second International Space Station spacewalk of 2019 and the Expedition 59 crew is studying the human brain and an astronaut's wake-sleep cycle in space.
Flight Engineers Nick Hague and Christina Koch will exit the Quest airlock Friday for about 6.5 hours of battery swaps to upgrade the station's power storage capacity. The duo will set their spacesuits to battery power about 8:20 a.m. EDT Friday signifying the start of their spacewalk. NASA TV will begins its live coverage at 6:30 a.m.
While Hague and Koch were organizing their spacewalk tools today, the duo had time to research how blood flows to the brain in microgravity. Koch took Doppler waveform measurements of her arterial blood pressure for the Cerebral Autoregulation study. Hague then closed out the brain blood-flow experiment and stowed its gear in the Kibo lab module.
Astronaut David Saint-Jacques of the Canadian Space Agency was back on spacesuit duty today cleaning cooling loops, checking tools and readying the SAFER jetpacks. He later worked on a wearable device, the Actiwatch Spectrum (AWS), which measures an astronaut's daily wake-sleep cycle, or circadian rhythm. The AWS provides doctors insights into sleep quality, sleep onset and ambient light quality aboard the orbital lab.
NASA astronaut Anne McClain also assisted with the spacesuit work today checking the SAFER jet packs and reconfiguring the U.S. spacesuits. She also worked on a science freezer and trashed obsolete ultrasonic hardware designed to detect pressure leaks.