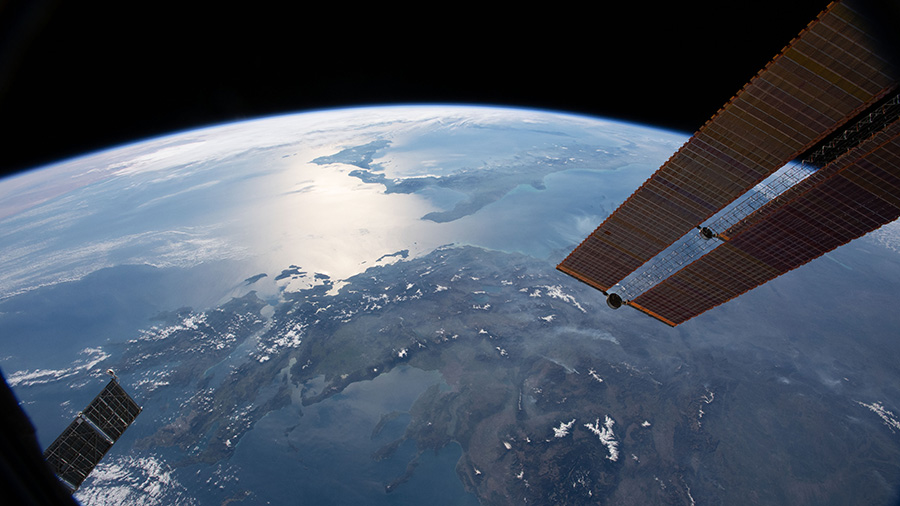 Human research and spacewalk preparations are underway aboard the International Space Station today. A Russian cargo rocket is also preparing to blast off Thursday morning and resupply the Expedition 59 crew.
Astronauts Nick Hague and Christina Koch took turns this morning testing their vision. They tested their visual acuity and contrast sensitivity using an eye chart in the Destiny lab module.
The station residents also collected more blood and urine samples today aboard the orbital lab. They spun the samples in a centrifuge and stored them in a science freezer. Scientists will later analyze the samples on the ground to understand how living in space affects human physiology.
Upcoming spacewalkers Anne McClain and David Saint-Jacques reviewed next week's spacewalk and tagged up with specialists on the ground. Both astronauts also checked out their spacesuit batteries and glove heaters.
They will set their spacesuits to battery power Monday at 8:05 a.m. EDT then exit the Quest airlock into the vacuum of space. The spacewalkers will spend about six-and-a-half hours installing truss jumpers to provide a redundant power source for the Canadarm2 robotic arm.
Watch a 3-D animation depicting Monday's spacewalk activities
In Kazakhstan at the Baikonur Cosmodrome, a Russian Progress 72 (72P) resupply ship stands ready to launch on a two-orbit trip to the station. The 72P will liftoff Thursday 7:01 a.m. and dock to the Pirs docking compartment at 10:25 a.m. NASA TV will broadcast the launch and docking of the spaceship carrying more than three tons of food, fuel and supplies.