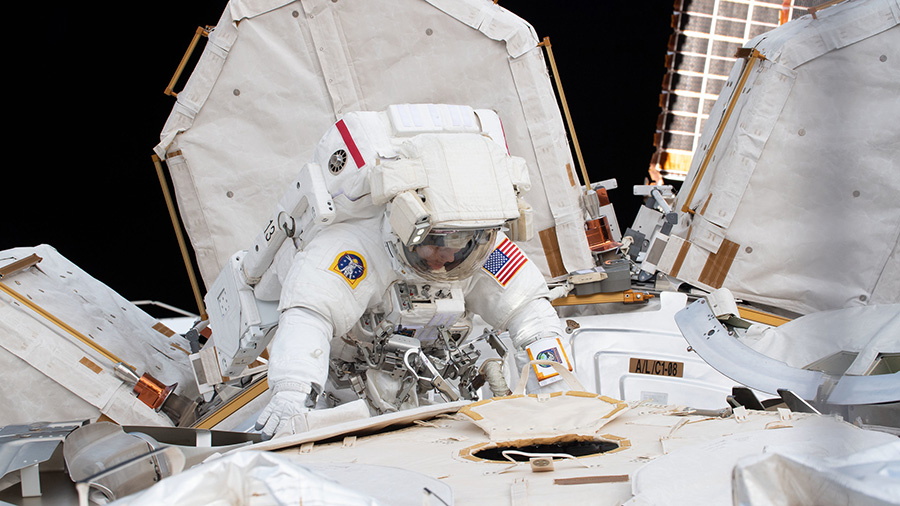 NASA astronauts Anne McClain and David Saint-Jacques have begun the third spacewalk in under a month on the exterior of the International Space Station. Today's spacewalk will work to establish a redundant path of power to the Canadian-built robotic arm, known as Canadarm2, and install cables to provide for more expansive wireless communications coverage outside the orbital complex, as well as for enhanced hardwired computer network capability.
Watch the spacewalk on NASA TV and on the agency's website.
The spacewalkers set their spacesuits to battery power this morning at 7:31 a.m. EDT then exited the Quest airlock into the vacuum of space. The team will spend about six-and-a-half hours installing truss jumpers to provide a redundant power source for the Canadarm2 robotic arm.
This is the 216th spacewalk in support of space station assembly and maintenance. McClain will be designated extravehicular crew member 1 (EV 1), wearing the suit with red stripes. Saint-Jacques will be designated extravehicular crew member 2 (EV 2), wearing the suit with no stripes.
Learn more about station activities by following @space_station and @ISS_Research on Twitter as well as the ISS Facebook and ISS Instagram accounts.