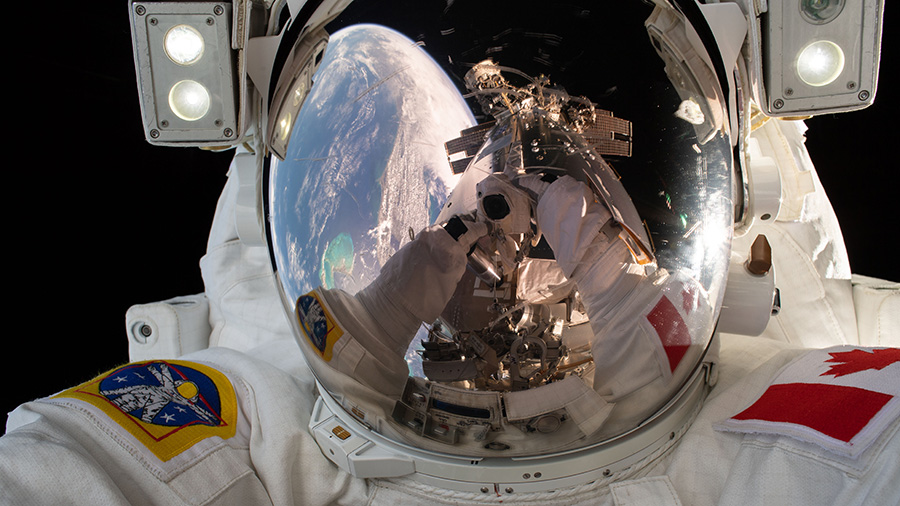 The Expedition 59 crew has switched focus from Monday's spacewalk to microgravity science aboard the International Space Station. Soon, the orbital residents will be unpacking a pair of U.S. space freighters.
Astronauts Anne McClain of NASA and David Saint-Jacques of the Canadian Space Agency are conducting their post-spacewalk medical checkups today. The astronauts measured their temperature, blood pressure, respiration and ear condition. After the checkups, the spacewalkers had their eyes scanned with an ultrasound device by Flight Engineer Nick Hague.
The spacewalking duo along with NASA astronaut Christina Koch also had an hour-long video debrief session with specialists on the ground. The crew and mission controllers discussed lessons they learned that could inform the planning of future spacewalks.
Koch spent most of her day on maintenance replacing science hardware inside the Combustion Integrated Rack. The research device enables safe investigations of microgravity's impacts on solid and gaseous fuel combustion aboard the orbital lab. Hague explored how blood flows to the brain for the Cerebral Autoregulation study. The brain research uses Doppler technology that measures blood flow waveforms to help doctors understand and treat space-caused lightheadedness.
With the recent series of spacewalks now complete, the crew will soon be turning its attention to the arrival of two resupply ships. Northrop Grumman's Cygnus cargo craft and the SpaceX Dragon will each deliver science and supplies before the end of the month to replenish the space station crew. Cygnus is due to blast off for a three-month mission attached to the station's Unity module April 17. Dragon is targeted to liftoff at the end of April for a month-long stay at the Harmony module.