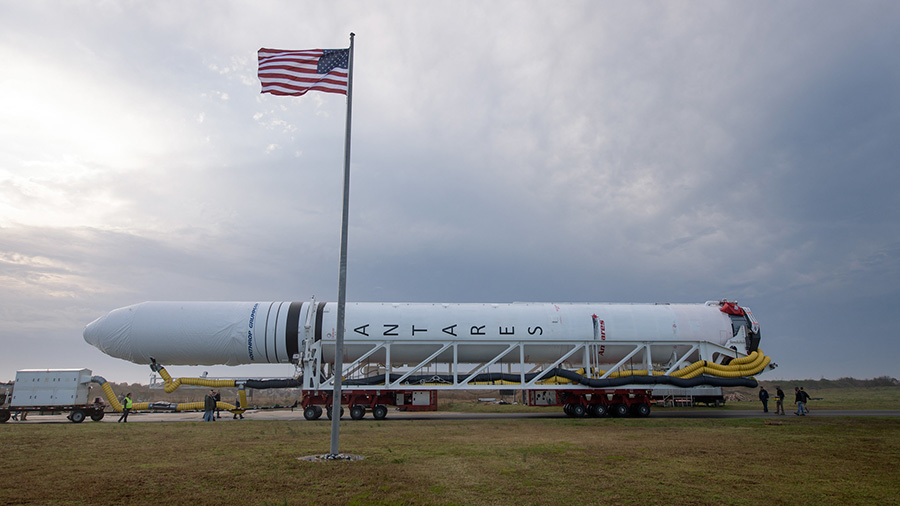 The next U.S. spaceship to deliver goods to the International Space Station rolled out to its launch pad in Virginia today. The Expedition 59 crew is training to capture the U.S. space freighter while also filming a virtual reality experience aboard the orbital lab.
Northrop Grumman is poised to launch its Cygnus resupply ship atop an Antares rocket Wednesday at 4:46 p.m. EDT. It will blast off from NASA's Wallops Flight Facility on a day-and-a-half long delivery trip to the station's Unity module.
Astronauts Anne McClain and David Saint-Jacques will be waiting for Cygnus' arrival Friday morning from inside the cupola. McClain will command the Canadarm2 robotic arm to reach out and capture Cygnus about 5:30 a.m. as Saint-Jacques backs her up. Robotics controllers will take over shortly after and remotely install the Cygnus to Unity's Earth-facing point about two hours later.
The duo, supported by NASA astronaut Nick Hague, continued reviewing procedures and practicing robotics maneuvers today as Cygnus counts down to its Wednesday launch. NASA TV will broadcast the launch and capture activities live.
More virtual reality filming continued today and has been ongoing for several months now inside the orbital complex. The crew has been filming a 360° experience depicting life on the station for future viewing by audiences on Earth.