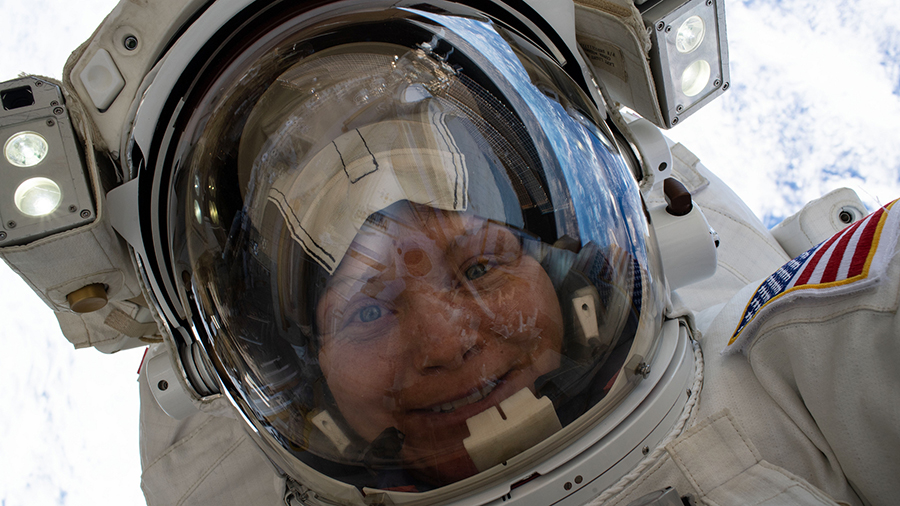 Expedition 59 Flight Engineers Anne McClain of NASA and David Saint-Jacques of the Canadian Space Agency are scheduled to conduct another spacewalk Monday, April 8, to establish a redundant path of power to the Canadian-built robotic arm, known as Canadarm2, and install cables to provide for more expansive wireless communications coverage outside the orbital complex, as well as for enhanced hardwired computer network capability.
Watch the spacewalk on NASA TV and on the agency's website. Live coverage of the spacewalk will begin at 6:30 a.m., and is expected to last about 6.5 hours. The spacewalk is set to start at 8:05 a.m.
This will be the 216th spacewalk in support of space station assembly and maintenance. McClain will be designated extravehicular crew member 1 (EV 1), wearing the suit with red stripes. Saint-Jacques will be designated extravehicular crew member 2 (EV 2), wearing the suit with no stripes.
This is the third spacewalk in under a month on the space station. The first two spacewalks installed powerful lithium-ion batteries for one pair of the station's solar arrays. On March 22, the first spacewalk in the series was completed by McClain and fellow NASA astronaut Nick Hague. On March 29, the second spacewalk was completed by Hague and NASA astronaut Christina Koch.
The spacewalking work continues the overall upgrade of the station's power system that began with similar battery replacement during spacewalks in January 2017.
Learn more about station activities by following @space_station and @ISS_Research on Twitter as well as the ISS Facebook and ISS Instagram accounts.