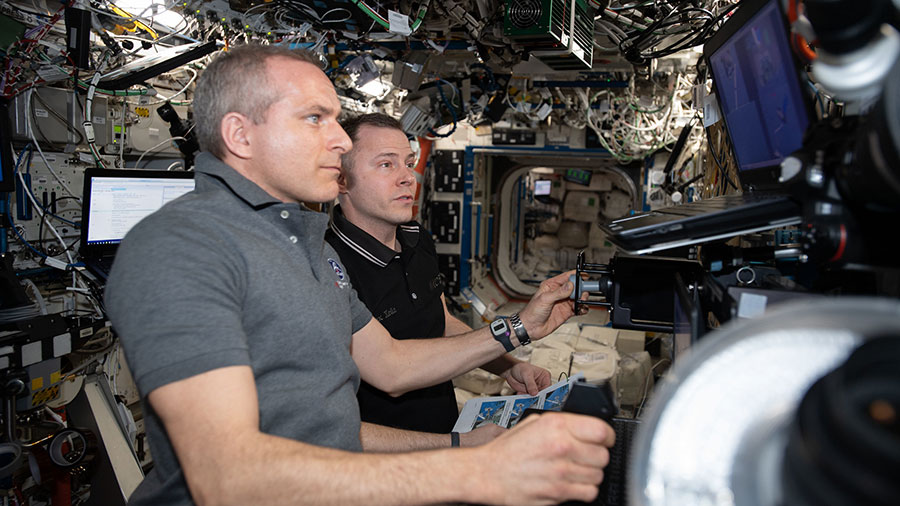 The Expedition 59 astronauts are off-duty today relaxing before the planned launch and capture of the SpaceX Dragon resupply ship this weekend. In Mission Control, robotics engineers are preparing to swap a failed power distributor outside the International Space Station.
On April 29, the space station team identified an issue with one of the station's Main Bus Switching Units (MBSU) that distributes power to two of the eight power channels on the station.  There are no immediate concerns for the crew or the station. Flight controllers are scheduled to perform a series of maneuvers to robotically swap the failed MBSU for a spare on Wednesday, May 1 and Thursday, May 2. After the swap is complete, flight controllers will conduct a series of checkouts on the newly installed MBSU and take steps to return the station to full power capability to support SpaceX capture and berthing.
NASA and SpaceX are pressing ahead to launch Dragon no earlier than Friday May 3 at 3:11 a.m. EDT to deliver nearly 5,500 pounds of science, supplies and hardware. Astronauts David Saint-Jacques and Nick Hague will be in the cupola Sunday to command the Canadarm2 robotic arm to capture Dragon around 7 a.m.
Flight Engineers Anne McClain and Christina Koch will help unpack and activate the time critical experiments after Dragon is installed on the Harmony module. New lab mice will be quickly transferred and housed in specialized habitats for an immune system study. Fresh biological samples, such as kidney cells, will be also stowed in science freezers and incubators for later analysis.