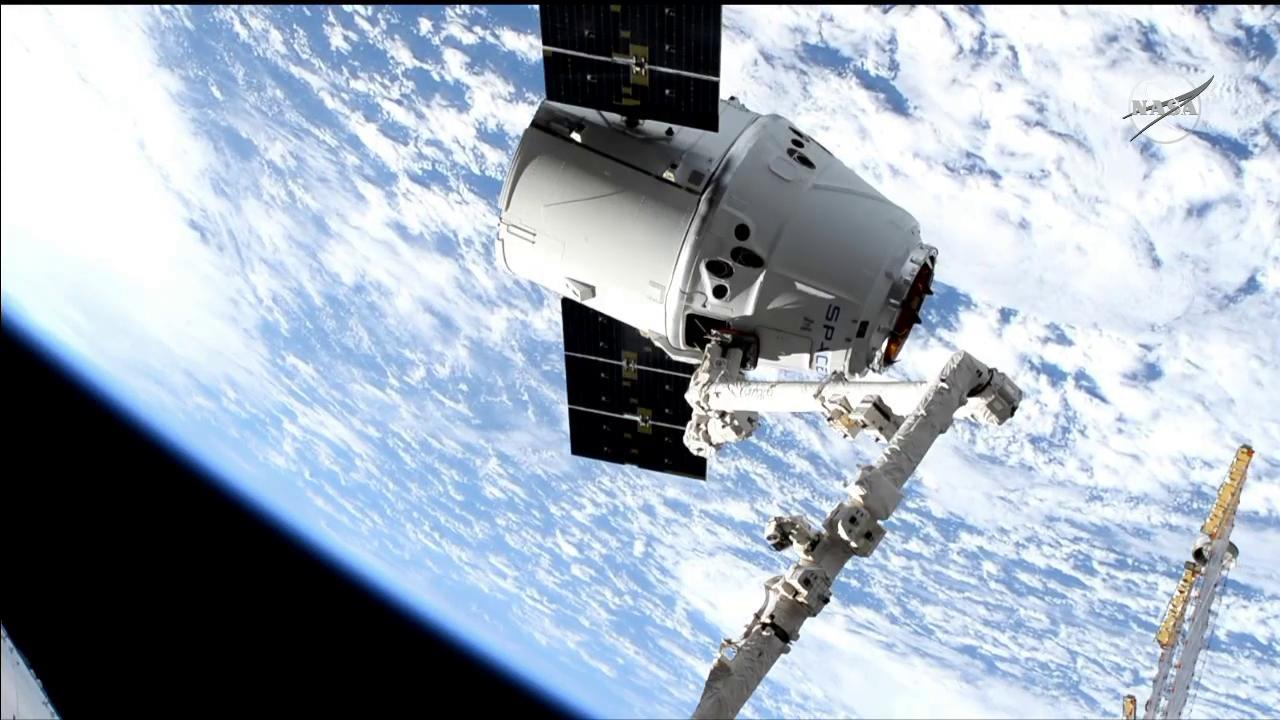 While the International Space Station was traveling over the north Atlantic Ocean, astronauts David Saint-Jacques of the Canadian Space Agency and Nick Hague of NASA grappled Dragon at 7:01 a.m. EDT using the space station's robotic arm Canadarm2.
Ground controllers will now send commands to begin the robotic installation of the spacecraft on bottom of the station's Harmony module. NASA Television coverage of installation is scheduled to begin at 9 a.m. Watch online at www.nasa.gov/live.
The Dragon lifted off on a SpaceX Falcon 9 rocket from Space Launch Complex 40 at Cape Canaveral Air Force Station in Florida Saturday, May 4 with more than 5,500 pounds of research, equipment, cargo and supplies that will support dozens of investigations aboard the orbiting laboratory.
Here's some of the research arriving at station:
NASA's Orbiting Carbon Observatory-3 (OCO-3) examines the complex dynamics of Earth's atmospheric carbon cycle by collecting measurements to track variations in a specific type of atmospheric carbon dioxide. Understanding carbon sources can aid in forecasting increased atmospheric heat retention and reduce its long-term risks.
The Photobioreactor investigation aims to demonstrate how microalgae can be used together with existing life support systems on the space station to improve recycling of resources. The cultivation of microalgae for food, and as part of a life support system to generate oxygen and consume carbon dioxide, could be helpful in future long-duration exploration missions, as it could reduce the amount of consumables required from Earth.
Keep up to date with the latest news from the crew living in space by following https://blogs.nasa.gov/spacestation/, @space_station and @ISS_Research on Twitter, and the ISS Facebook and ISS Instagram accounts.