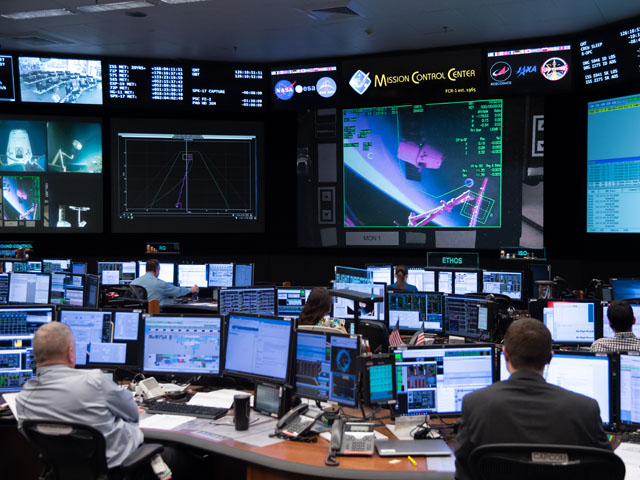 This morning, just two days following its nighttime launch from the Florida coast, SpaceX's Dragon cargo spacecraft was captured and installed on the Earth-facing side of the International Space Station's Harmony module at 9:32 a.m. EDT.
Expedition 59 astronauts David Saint-Jacques of the Canadian Space Agency and Nick Hague of NASA successfully employed the space station's robotic arm to grapple Dragon at 7:01 a.m., which brings the number of spaceships docked at the space station to six. Other vehicles visiting include Russia's Progress 71 and 72 resupply ships and the Soyuz MS-11 and MS-12 crew ships, as well as Northrop Grumman's Cygnus space freighter.
Dragon's arrival heralds a busy week for the crew. Today, NASA astronauts Anne McClain and Christina Koch unpacked and activated time-critical experiments after completing checkout of the spacecraft. Fresh biological samples, such as kidney cells, were stowed in science freezers and incubators for later analysis. New lab mice were also quickly transferred and housed in specialized habitats to enhance research for an immune system study that aims to keep astronauts healthy for long-duration missions in space, which will become even more commonplace as our destinations extend to the Moon and beyond.
SpaceX's 17th cargo flight to the space station under NASA's Commercial Resupply Services contract supports dozens of new and existing investigations. NASA's research and development work aboard the space station contributes to the agency's deep space exploration plans, including returning astronauts to the Moon's surface in five years.
This latest commercial cargo delivery refreshed the orbiting laboratory with 5,500 pounds of research, crew supplies and hardware.
Keep up to date with the latest news from the crew living in space by following https://blogs.nasa.gov/spacestation/, @space_station and @ISS_Research on Twitter, and the ISS Facebook and ISS Instagram accounts.