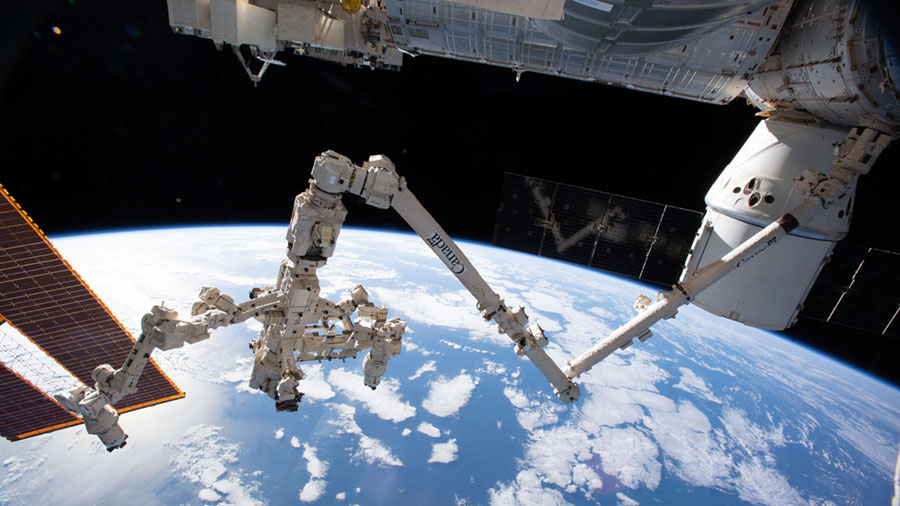 Four Expedition 59 astronauts spent Friday investigating a multitude of space biology phenomena while two cosmonauts continued preparing for an upcoming spacewalk. International Space Station hardware is also ready for return to Earth inside the SpaceX Dragon resupply ship.
The crew is exploring how space impacts a variety of microscopic physiological processes today to get humans ready to go to the Moon in 2024. DNA, pathogens and microalgae as well as their benefits and risks to astronauts are just some of the microbiological systems scientists are studying in space.
The Bio-Analyzer is a new device from the Canadian Space Agency (CSA) being tested aboard the space station for its ability to process and analyze biological samples quickly. CSA astronaut David Saint-Jacques added his blood samples to the biomedical device today so doctors could check his biomarkers from the ground.
NASA astronaut Christina Koch studied a pair of yeast strains today using the miniPCR hardware for the Genes In Space-6 study. The experiment is exploring how space radiation damages DNA and how the cell repair mechanism works in microgravity. Koch later tended to plants grown inside the Veggie PONDS botany facility.
More research into why pathogens become more virulent in space continued today as Flight Engineer Nick Hague processed culture samples for the microbiology study. Hague also checked on microalgae sample packs that may serve as a dietary supplement for future astronauts.
Hague also configured a variety of space biology hardware, both large and small, ensuring critical research operations continue successfully on the orbital lab. He first worked on a pair of refrigerator-sized Human Research Facility racks before checking out the shoebox-sized TangoLab-1 facility that enables a variety of tissue, cell and botany investigations.
Anne McClain of NASA turned her attention Friday to old hardware disconnected during a spacewalk earlier this year. She will retrieve a failed Battery Charge Discharge Unit (BCDU) resting outside the Kibo laboratory module's airlock and bring it inside the station. The Canadarm2's robotic hand, known as Dextre, removed the BCDU early Thursday from a truss structure logistics carrier and placed it outside Kibo. The BCDU will be packed aboard the SpaceX Dragon cargo craft for analysis after it returns to Earth June 3.
Two cosmonauts are getting ready for the fourth station spacewalk this year scheduled to take place May 29. Commander Oleg Kononenko and Flight Engineer Alexey Ovchinin tagged up with Russian spacewalk specialists on the ground today for assistance setting up their Orlan spacesuits. The duo will remove experiments, sample station surfaces and jettison obsolete hardware during their six-hour excursion.