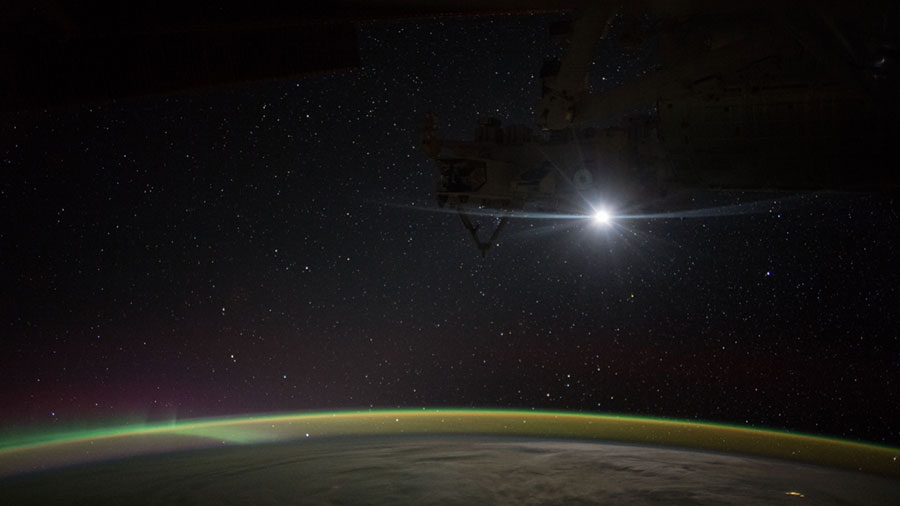 The six residents aboard the International Space Station kicked off the workweek today exploring microgravity's long-term impacts on biology and physics. The Expedition 59 crew is also ramping up for a fourth spacewalk at the orbital lab this year.
NASA is planning to send men and women to the Moon in 2024 and life science on the station will help flight surgeons keep lunar astronauts healthy. The space physics research will also provide critical insights to engineers designing future spacecraft and habitats for exploration missions.
Several dozen mice and their immune systems, which are similar to humans, are being continuously observed in specialized habitats. Flight Engineer Anne McClain tended to the mice today cleaning cages and restocking food in Japan's Kibo laboratory module. Doctors are testing the hypothesis the immune response decreases in space and exploring advanced vaccines and therapies benefiting both astronauts and Earthlings.
NASA astronauts Christina Koch and Nick Hague also researched a variety of space biological phenomena. Koch wrapped up a pathogen study today seeking to understand why virulence increases in microgravity. Hague cleaned up Veggie Ponds botany hardware in Europe's Columbus laboratory module where small crops of edible plants are grown. He then photographed protein crystal samples in the afternoon for a student-designed investigation as Koch assisted him.
David Saint-Jacques of the Canadian Space Agency recorded a video demonstrating Isaac Newton's Second and Third Laws. The video will help young students understand how force and acceleration influence air and space missions. He also transferred data captured from tiny internal satellites exploring space debris cleanup technology.
Commander Oleg Kononenko and Flight Engineer Alexey Ovchinin are getting ready for a spacewalk planned for May 29. The cosmonauts are resizing their spacesuits, inspecting the components and checking for leaks today. The duo will remove experiments, sample station surfaces and jettison obsolete hardware during their six-hour excursion.