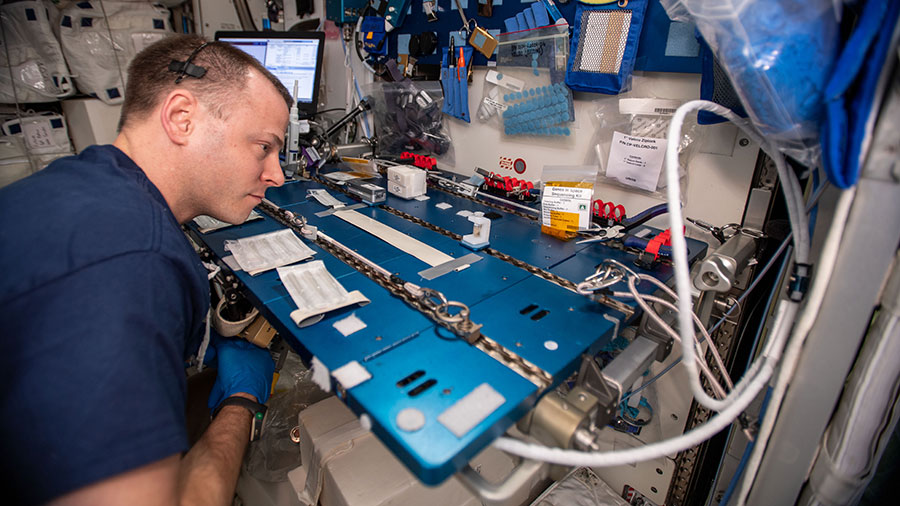 The Expedition 59 astronauts focused on DNA editing, high-end physics and free-flying robotics aboard the International Space Station today. Two cosmonauts are also ramping up their preparations for next week's spacewalk.
A docked Russian cargo craft fired its thrusters for 20 minutes today increasing the station's altitude by about 2.5 miles. The orbital reboost places the station in the correct trajectory for the undocking and landing of three Expedition 59 crewmembers June 24.
The wide range of advanced space research taking place every day on the orbiting lab benefits humans on Earth and in space. Scientists use the results to treat terrestrial ailments and the negative impacts of microgravity more effectively. Engineers also take the data to improve industrial and commercial processes and design safer, more advanced spacecraft and habitats as NASA prepares to go to the Moon in 2024.
NASA astronaut Nick Hague is researching how space radiation damages DNA today using the CRISPR genome-editing tool. The Genes in Space-6 study also uses DNA extraction and sequencing tools to observe how the damaged DNA repairs itself in space. Results may advance the development of treatments for radiation exposure hazards in harsh environments.
Space manufacturing eliminates the detrimental effect of Earth's gravity and may provide superior results than on the ground. Flight Engineer Christina Koch of NASA set up hardware in the Microgravity Science Glovebox to explore the production of high-quality optical fibers on the station. The study seeks to create a high commercial value product benefitting both Earth and space industries.
The Astrobee robotic assistant is being checked out today by Canadian Space Agency astronaut David Saint-Jacques. He set up the cube-shaped robotic free flyer to map the inside the of Kibo laboratory module and spun it rapidly afterward calibrating its navigation camera. Astrobee is being tested for its ability to perform routine maintenance duties and provide additional lab monitoring capabilities.
Two cosmonauts are ensuring their physical readiness and outfitting a pair of Russian Orlan spacesuits ahead of a May 29 spacewalk. Commander Oleg Kononenko and Flight Engineer Alexey Ovchinin each spent over an hour on an exercise bike today measuring their cardiovascular response. Flight surgeons want to make sure the spacewalkers are able to endure the several hours of intense physical exertion. The duo also installed lights and other components onto the spacesuits.