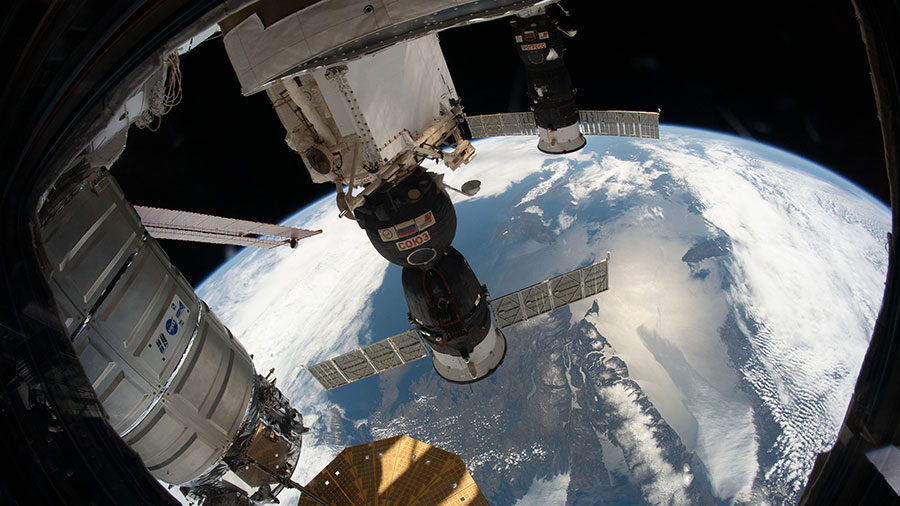 Four Expedition 59 astronauts underwent periodic health checkups and regularly scheduled eye scans today. The International Space Station residents also had time set aside for space gardening, furnace work, crew ship packing and radiation checks.
Astronauts Anne McClain and Christina Koch started Tuesday morning checking each other's vital signs including temperature, blood pressure, pulse and respiratory rate. They were followed shortly afterward by Flight Engineers Nick Hague and David Saint-Jacques.
In the afternoon, the Koch and Hague swapped roles as Crew Medical Officer (CMO) and used an ultrasound device to scan each other's eyes. Saint-Jacques then took over as CMO and activated the optical coherence tomography gear to image the retinas of Koch and Hague. The ongoing eye exams help flight surgeons understand how long-term weightlessness affects vision and the shape of the eye.
McClain and Koch spent a few moments in the middle of their eye checks today thinning and watering plants for the Veg-04 botany experiment. The research takes place in a specialized greenhouse and explores the feasibility of a continuous fresh food production system in Europe's Columbus laboratory module.
After the vital sign checks, Hague partnered up with McClain to reconfigure and install an advanced furnace in the Japanese Kibo laboratory module. The Electrostatic Levitation Furnace enables the observation of thermophysical properties and the synthesis of high temperature materials on the station.
Commander Oleg Kononenko continued readying the Soyuz MS-11 crew ship for its departure June 24 carrying him, McClain and Saint-Jacques back to Earth. Flight Engineer Alexey Ovchinin collected radiation sensors from the station's U.S. side and downloaded measurement readings. The Russian duo also trained to operate a unique suit that counteracts microgravity and draws body fluids towards the feet to minimize head pressure.