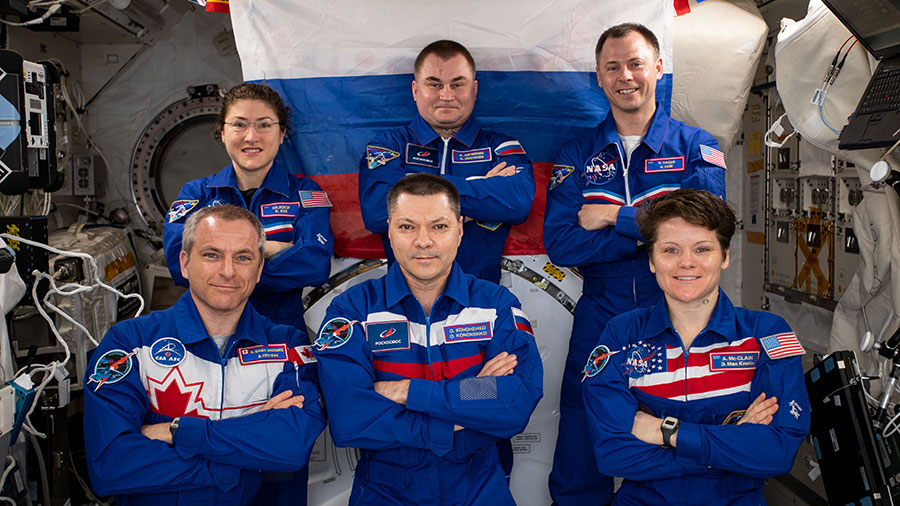 Three Expedition 59 crewmembers are beginning their final week aboard the International Space Station and readying their spacesuits and Soyuz crew ship for the return to Earth. The orbital residents also continued a variety of human research activities amidst the deployment of tiny satellites today.
Flight Engineers Anne McClain and David Saint-Jacques are set to return to Earth June 24 with Commander Oleg Kononenko at the helm of the Soyuz MS-11 crew craft. The homebound residents checked their Sokol launch and entry suits for leaks today. The trio also tested sensors that will monitor the crew's blood pressure during reentry into Earth's atmosphere.
McClain also packed personal items she will take back to Earth with her. Kononenko and Saint-Jacques practiced Soyuz descent procedures the crew will use on its way to a landing in Kazakhstan. The threesome have been living aboard the space lab since Dec. 3 and will have accumulated 204 days on orbit when they complete their mission next week.
Science continues unabated aboard the orbital lab with the crew exploring a wide variety of phenomena to help NASA plan missions to the Moon, Mars and beyond. Payload specialists on the ground also remotely operate many of the hundreds of experiments taking place aboard the orbiting lab.
NASA astronaut Christina Koch started Monday researching how microgravity affects perception and orientation. Today's experiment session required Koch to perform simple tasks wearing a neck brace and virtual reality goggles while free-floating inside Europe's Columbus laboratory module.
Four small satellites, or CubeSats, were ejected this morning outside of Japan's Kibo laboratory module. Flight Engineer Nick Hague of NASA monitored and photographed the CubeSats deployed for technology demonstrations. The first set of CubeSats deployed were from Nepal, Sri Lanka and Japan as part of the BIRDS-3 mission. The last CubeSat was from Singapore. All four arrived at the station April 19 aboard the Northrop Grumman Cygnus space freighter.