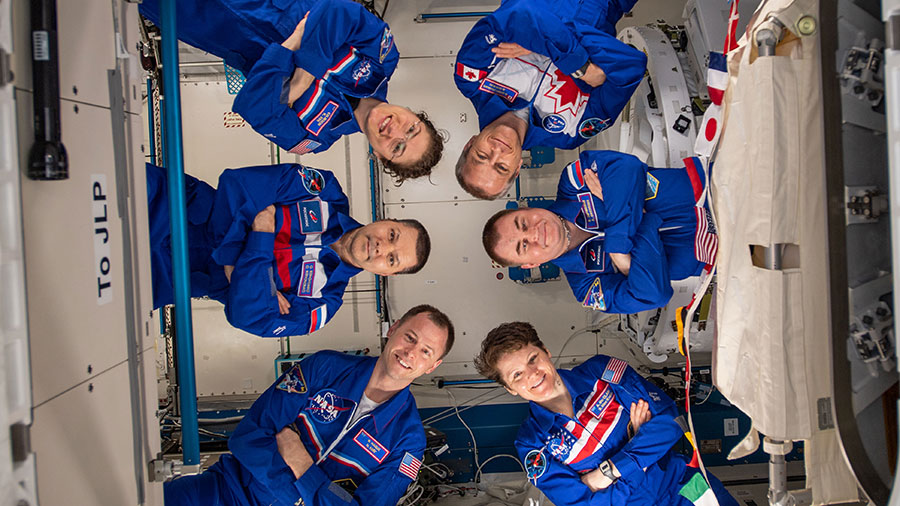 The Expedition 59 crew is going into the weekend preparing to split up on Monday amidst an array of ongoing human research. The orbital residents are also working on power upgrades and filming a virtual reality experience today.
Astronauts Anne McClain and David Saint-Jacques are in their final weekend aboard the International Space Station. They will ride back to Earth on Monday with Commander Oleg Kononenko inside the Soyuz MS-11 spacecraft. Their Soyuz vehicle undocks at 7:25 p.m. EDT and lands in Kazakhstan at 10:47 p.m. (8:47 a.m. Tuesday Kazakh time). NASA TV will broadcast all the homecoming activities live.
Kononenko will hand over station command to cosmonaut Alexey Ovchinin in a ceremony slated for Sunday at 3:35 p.m. live on NASA TV. Ovchinin officially becomes commander of Expedition 60 when the homebound trio's Soyuz undocks Monday. NASA astronauts Christina Koch and Nick Hague are continuing their stay aboard the orbiting lab.
McClain and Saint-Jacques participated in one final study today exploring behavior, performance and cognition in space. The duo practiced grappling a cargo craft during a robotic simulation for the Behavioral Core Measures study. McClain also prepared a CubeSat for deployment next week. Saint-Jacques recorded a science video demonstrating Newton's second and third laws in microgravity.
Hague joined McClain during the morning setting up the CubeSat hardware inside Japan's Kibo laboratory module. In the afternoon, he partnered up with Koch and upgraded power electronics hardware in the Harmony module.
Finally, all six crewmembers gathered in the Zvezda service module at dinnertime and videotaped their activities with a 360-degree camera. The crew has been filming a variety of immersive, cinematic experiences throughout their mission to share with audiences on Earth.