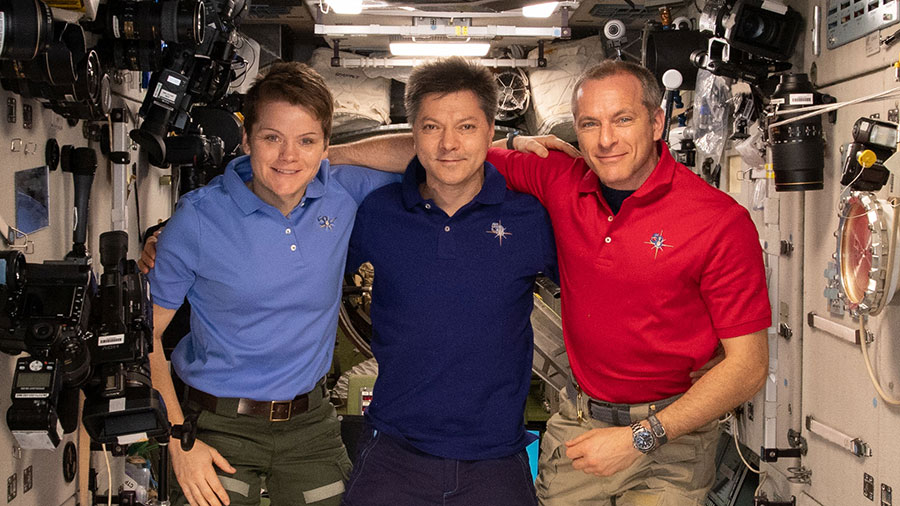 Three people who have been living in space for a 204-day mission conducting science and maintenance aboard the International Space Station are set for return to Earth at 10:48 p.m. EDT Monday, June 24.
Coverage of the farewell and hatch closure is now underway on NASA TV and the agency's website. Hatch closure is expected at approximately 4:10 p.m.
After closing the hatch to their Soyuz MS-11 spacecraft, NASA Flight Engineer Anne McClain, Expedition 59/Soyuz Commander Oleg Kononenko of the Russian space agency Roscosmos, and David Saint-Jacques of the Canadian Space Agency will undock from the station's Rassvet module at 7:25 p.m. for their return to Earth, landing southeast of the remote town of Dzhezkazgan in Kazakhstan.
On Sunday, Konenenko handed over station command to Alexey Ovchinin of Roscosmos in a change of command ceremony. Expedition 60 officially will begin following the undocking of the Expedition 59 crew.
The Expedition 59 crew contributed to hundreds of experiments in biology, biotechnology, physical science and Earth science; conducted a total of four spacewalks; and saw the arrival and departure of six visiting spacecraft – including the first commercial crew flight test with the SpaceX Crew Dragon.
Their return will conclude 204 days in space since they launched Dec. 3. It was the fourth spaceflight for Konenenko and the first for McClain and Saint-Jacques, who now holds the record for the longest single spaceflight by a Canadian astronaut.
Learn more about station activities by following the space station blog, @space_station and @ISS_Research on Twitter as well as the ISS Facebook and ISS Instagram accounts.