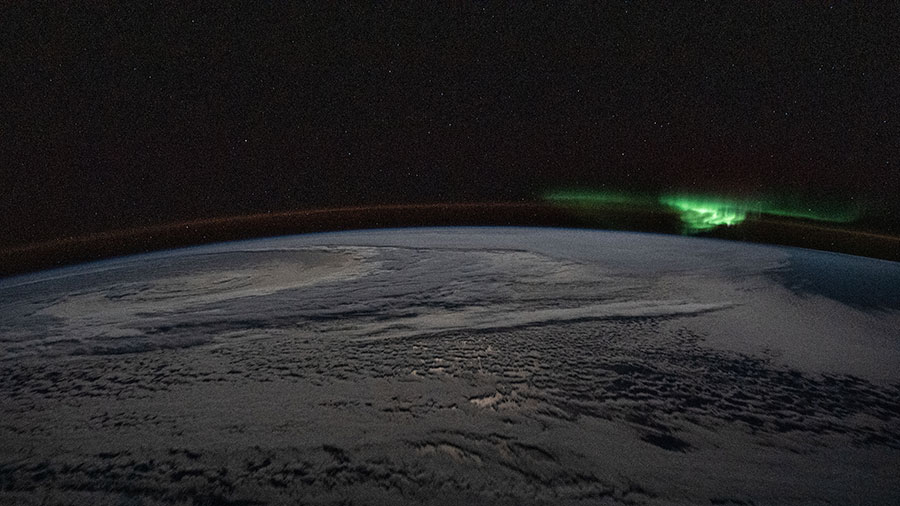 Virtual reality filming, space gardening and biomedical research were on the timeline for two NASA astronauts aboard the International Space Station today, while a cosmonaut took care of computer hardware and life support maintenance.
Flight Engineer Christina Koch tended to plants today growing inside Europe's Columbus laboratory module for the Veg-04 botany study. She later relocated a pair of tiny research facilities in the EXPRESS-6 science rack. The two devices, TangoLab-2 and STaARS-1, enable advanced investigations into a variety of biological processes, such as cell cultures and tissue engineering.
Astronaut Nick Hague took a turn today recording himself with a 360-degree camera for a virtual reality experience targeted to audiences on Earth. In the afternoon, he collected and stowed his urine samples in a science freezer for later analysis.
Expedition 60 Commander Alexey Ovchinin worked on Russian computer hardware in the Zvezda service module. In the evening, he picked up a high-powered camera for a photographic survey of catastrophes on Earth and their natural consequences.
The next crew to launch to the space station is in Star City, Russia for final qualification exams to certify to fly aboard the Soyuz MS-13 spaceship. Cosmonaut Alexander Skvortsov will lead NASA astronaut Andrew Morgan and European Space Agency astronaut Luca Parmitano in the Soyuz when they blast off July 20 for a six-hour ride to their new home in space. This will be Morgan's first space mission, Parmitano's second and Skvortsov's third visit to the station.