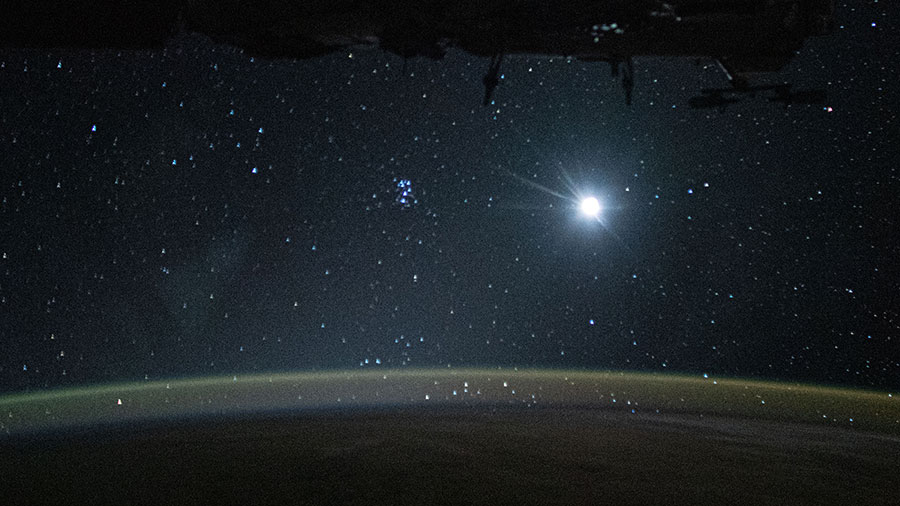 The three Expedition 60 crewmembers aboard the International Space Station focused primarily on keeping the orbiting lab in tip-top shape today. At the end of the workday, the trio split up for some space gardening and Earth photography.
NASA Flight Engineers Christina Koch and Nick Hague teamed up on Tuesday replacing components in the station's Water Recovery System (WRS). The time-consuming maintenance work requires the rotation of racks and a treadmill to access the WRS in the Tranquility module. The life support device processes water vapor and urine and converts it into drinkable water.
Hague wrapped up his workday servicing a science freezer before watering plants growing for a space botany study. Koch worked out on the Advanced Resistive Exercise Device then called down to Mission Control for a conference with flight surgeons.
On the Russian side of the station, Commander Alexey Ovchinin explored advanced photography techniques before an afternoon of lab cleaning work. In the evening, the veteran cosmonaut photographed Earth targets documenting the effects of human and natural catastrophes.
The orbiting trio will take a day off on July 4 and relax aboard the station. Back on Earth, a new set of Expedition 60 crewmates will fly from Russia on the U.S. Independence Day to their launch site at the Baikonur Cosmodrome in Kazakhstan. Astronauts Andrew Morgan and Luca Parmitano are in final preparations with cosmonaut Alexander Skvortsov for a July 20 liftoff to their new home in space. Their launch comes 50 years to the day NASA landed humans on the Moon for the first time.