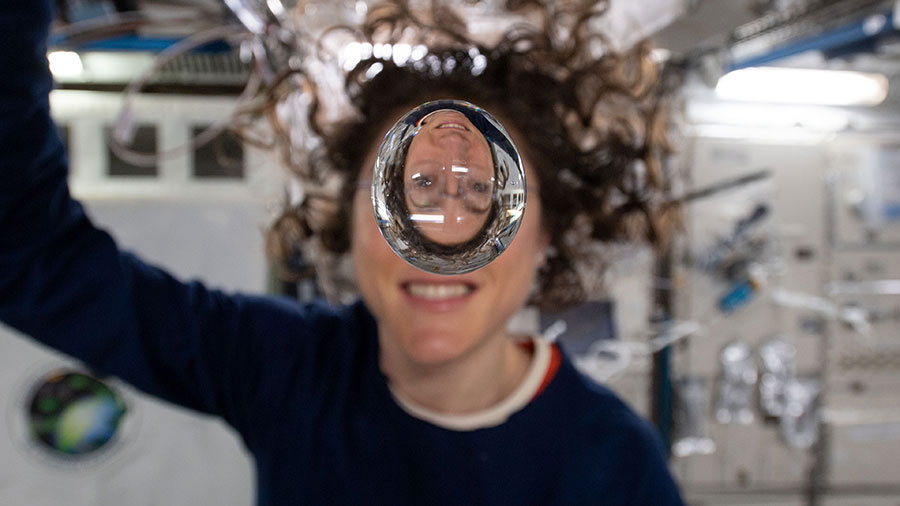 The Expedition 60 crew explored space biology and radiation exposure aboard the International Space Station today. The orbital residents also filmed a virtual reality experience and oversaw the deployment of a set microsatellites.
NASA astronaut Christina Koch tended plants and stored microalgae samples for a pair of biology studies investigating ways to support long-term missions farther away from Earth. The two-part VEG-04 study is researching space agriculture as a method to nourish future crews as NASA prepares to go to the Moon and beyond. Microalgae is being observed for the Photobioreactor experiment that aims to demonstrate a hybrid life support system.
A series of seven CubeSats were deployed outside Japan's Kibo laboratory module today. NASA Flight Engineer Nick Hague configured the seven microsatellites last week and installed them in a Kibo's small satellite deployer. An international team of engineers and students designed the CubeSats for a variety of experiments and technology demonstrations.
Both astronauts teamed up in the afternoon for another filming session depicting life aboard the orbital outpost. The crew has been videotaping a cinematic, virtual reality experience on the station to share with audiences on Earth.
Commander Alexey Ovchinin set up radiation detectors throughout the station's Russian segment this morning. The Matroyshka experiment is observing the amount of radiation the station and the crew are exposed to on its flight path.
The orbiting trio will take a day off on July 4 and relax aboard the station. Back on Earth, a new set of Expedition 60 crewmates will fly from Russia on the U.S. Independence Day to their launch site at the Baikonur Cosmodrome in Kazakhstan. Astronauts Andrew Morgan and Luca Parmitano are in final preparations with cosmonaut Alexander Skvortsov for a July 20 liftoff to their new home in space. Their launch comes 50 years to the day NASA landed humans on the Moon for the first time.