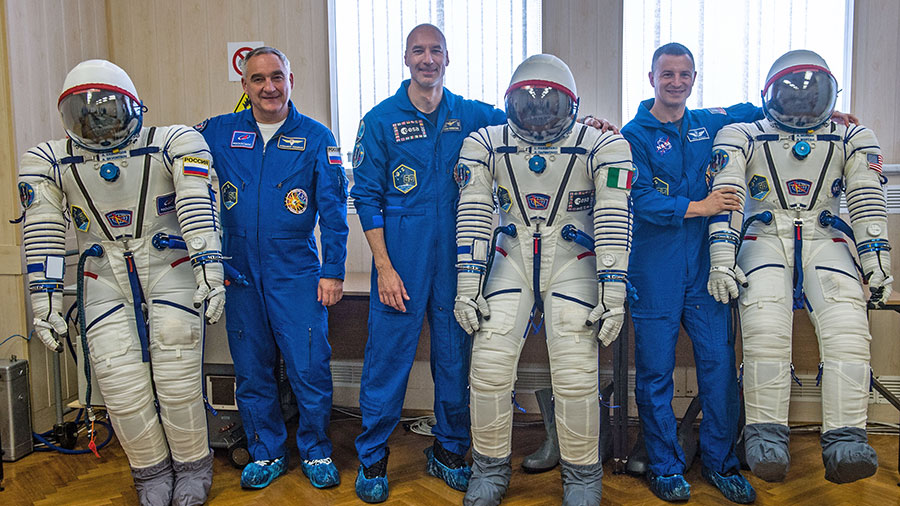 Three Expedition 60 crewmembers are orbiting Earth supporting a variety of biology research and spacesuit servicing today. A trio of soon-to-be International Space Station residents are in Kazakhstan awaiting a launch to their new home in space in less than two weeks.
NASA astronauts Christina Koch and Nick Hague collected their blood samples Monday morning for spinning in a centrifuge. The samples were then stowed in a science freezer for later analysis by scientists on Earth.
Koch then went on to work on a pair of U.S. spacesuits, cleaning cooling loops and replacing components. She also watered plants growing inside the Columbus laboratory module for the two-part VEG-04 space agriculture study.
Hague wrapped up last week's CubeSat deployment activities by retracting the deployer hardware back inside Japan's Kibo laboratory module. The NASA astronaut later tested new adjustable LED lights installed throughout the orbiting lab to increase crew health and wellness.
Commander Alexey Ovchinin focused mainly on computer maintenance and lab cleaning in the Russian segment of the station. Toward the end of the day, the veteran cosmonaut explored space exercise techniques and photographed landmarks on Earth.
Back on Earth at the Baikonur Cosmodrome in Kazakhstan, three new station residents are in final training ahead of their July 20 launch. Cosmonaut Alexander Skvortsov will lead astronauts Andrew Morgan and Luca Parmitano aboard the Soyuz MS-13 crew ship during their six-hour ride to the space station.