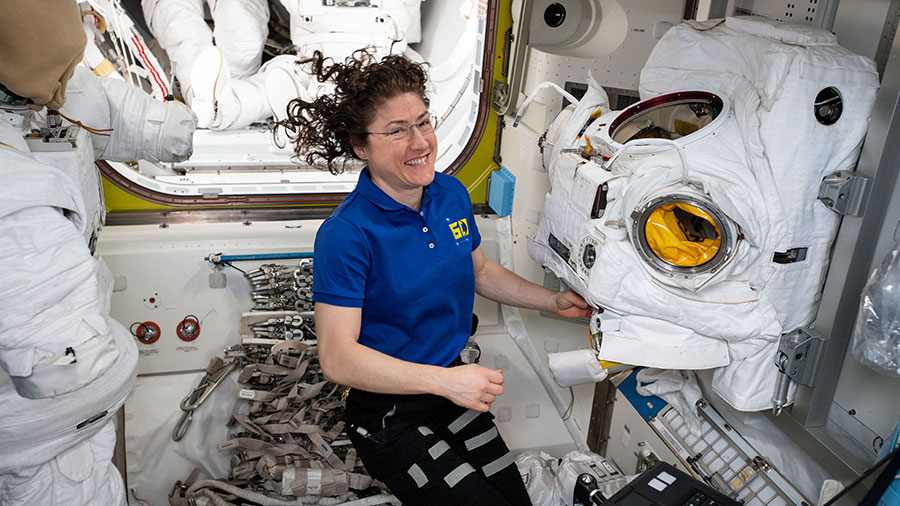 Biomedical research and space agriculture dominated the Expedition 60 crew's schedule today. The investigations aboard the International Space Station are helping scientists, doctors and engineers plan human missions to the Moon, Mars and beyond.
Nick Hague of NASA started Tuesday morning collecting and stowing his blood and urine samples for a pair of life science studies. His blood samples are being compared with samples from space mice, other astronauts and ground patients for changes in protein expression. Another study is comparing the biological samples taken before, during and after a spaceflight.
NASA Flight Engineer Christina Koch set up a 360-degree camera to record station gardening activities. The crew has been recording immersive, cinematic experiences throughout the year to share with audiences on Earth.
It was harvest time during the afternoon in the orbiting lab's Harmony module today. Hague and Koch were picking salad-type plants after 28 days of growth, stowing samples for analysis and taste testing the rest. The VEG-04 botany study is exploring the viability of growing fresh food in space to support astronauts on long-term missions.
Exercising in microgravity is critical to maintain a crewmember's health and ensure successful space missions. Commander Alexey Ovchinin spent Tuesday morning supporting a Russian study investigating the effectiveness of space workouts. In the afternoon, he moved on to lab maintenance changing out life support system components.