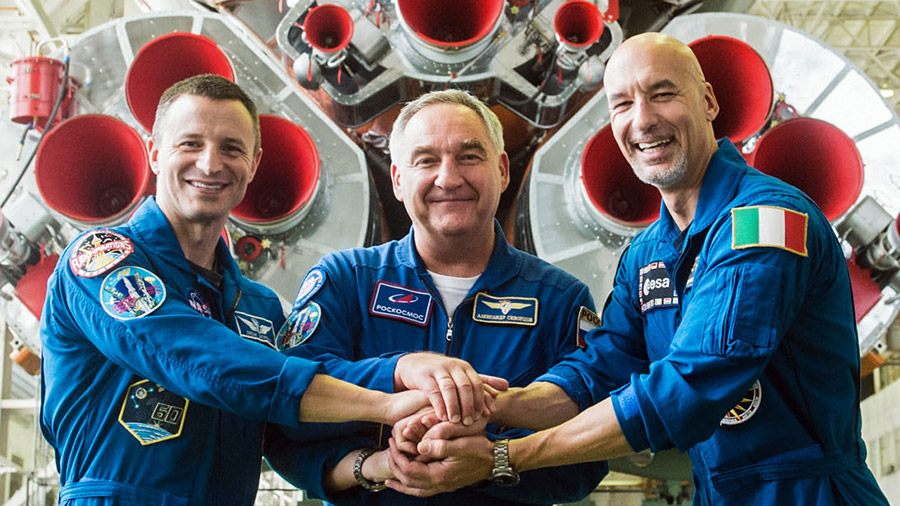 The International Space Station is set to receive a few more crewmembers on Saturday followed by a new docking port next Tuesday. Meanwhile, the orbiting Expedition 60 residents serviced a multitude of science hardware today while maintaining communication and life support systems.
The Soyuz MS-13 spacecraft that will launch three new residents to the station on Saturday is being processed at its facility at the Baikonur Cosmodrome in Kazakhstan. Astronauts Drew Morgan and Luca Parmitano and cosmonaut Alexander Skvortsov inspected their spacecraft during a walk-through today. The trio will blast off Saturday at 12:28 p.m. EDT and take a six-and-a-half hour trip to their new home in space.
Another spacecraft, the SpaceX Dragon resupply ship, is being readied for its liftoff Sunday at 7:35 p.m. from Florida. It will arrive at the station Tuesday for its capture at 11 a.m. by NASA Flight Engineers Nick Hague and Christina Koch with the Canadarm2 robotic arm.
After Dragon's installation to the Unity module, the crew will unload brand new science gear for advanced biology research to improve human health. Robotics controllers will detach the new International Docking Adapter-3 (IDA-3) from the back of Dragon and position it on the space-facing side of the Harmony module in preparation for its installation during a future spacewalk. The IDA-3 is another docking port supporting future commercial crew missions with Boeing and SpaceX crew vehicles.
Koch stowed and relocated a pair of biology and botany facilities today. She powered down several rodent habitats and packed them up for return on the Dragon space freighter. Koch then relocated the Veggie botany facility to the Columbus laboratory module after last week's lettuce harvest in the Unity module.
Hague and Koch started the day with body measurements for the Myotones muscle study to benefit rehabilitation treatments for astronauts and Earthlings. Hague then set up and inspected a fluorescence microscope that can observe cellular changes in microgravity.
Commander Alexey Ovchinin set up a video camera in the Zvezda service module to record the arrival of his new crewmates on Saturday. He later checked air and temperature sensors and swapped out air filters on the Russian side of the orbital lab.