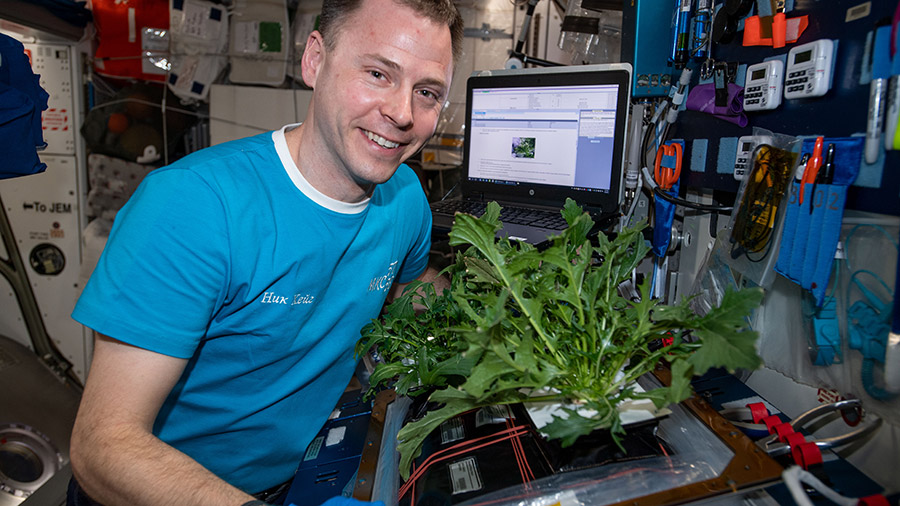 A quartet of Expedition 60 astronauts are relaxing today ahead of planned operations to receive a new space freighter on Friday. Meanwhile, a pair of cosmonauts checked Soyuz spacecraft systems and collected air samples aboard the International Space Station.
SpaceX is targeting Wednesday at 6:24 p.m. EDT for the launch of its Dragon cargo craft to resupply the station. Meteorologists, however, predict a 30% chance of favorable weather for a liftoff at the Cape Canaveral Air Force Station in Florida.
An on time launch Wednesday would see Dragon arriving at the station early Friday packed with new science experiments and a new International Docking Adapter-3. NASA Flight Engineers Nick Hague and Christina Koch will be on duty in the cupola to command the Canadarm2 robotic arm to capture Dragon at 7 a.m., while Flight Engineer Drew Morgan monitors the cargo craft's telemetry as it approaches the orbiting lab.
The station's newest arrivals including Morgan, Luca Parmitano of the European Space Agency and Alexander Skvortsov of Roscosmos are getting up to speed with station systems today. They are orienting themselves in microgravity, while conducting science and maintenance operations aboard the lab.
Station Commander Alexey Ovchinin checked the air quality over in the Russian side of the station. Skvortsov checked the hatch seal and recharged batteries in the new Soyuz MS-13 crew ship docked to the Zvezda service module.
Towards the end of the day, the entire six-member crew gathered for about an hour to review their roles and responsibilities in the event of an emergency. The four astronauts and two cosmonauts reviewed procedures, safety gear and escape paths for unlikely emergency scenarios such as a fire or a pressure leak aboard the station.