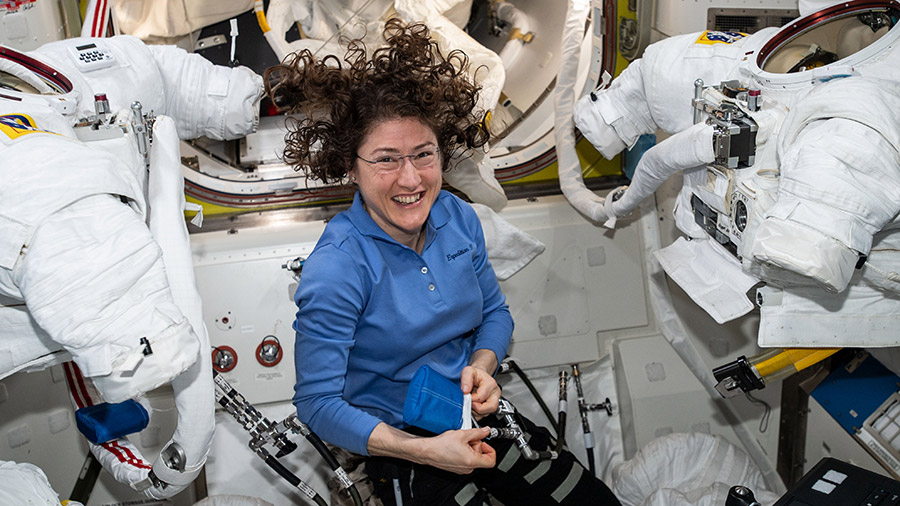 The SpaceX Dragon cargo craft will attempt another launch atop the Falcon 9 rocket today at 6:01 p.m. EDT. If the weather cooperates for a liftoff from Cape Canaveral in Florida, Dragon will arrive at the International Space Station on Saturday at 10 a.m. with over 5,000 pounds of cargo for the Expedition 60 crew.
Less than a week into their mission, astronauts Drew Morgan and Luca Parmitano are exploring how living in space impacts their visual perception and spatial orientation. The duo took turns wearing virtual reality goggles today testing how they evaluate motion and distance while free-floating.
NASA astronauts Christina Koch and Nick Hague, who have been in space since March, split their schedule today between science and maintenance work. Koch set up cameras in the Columbus lab module to record Morgan and Parmitano during their experiment work. She then measured airflow throughout the station's U.S. segment.
Hague started his day on plumbing replacing urine-recycling tanks in the Tranquility module. In the afternoon, he stowed algae samples into a science freezer and serviced a 360-degree camera that records cinematic, virtual reality experiences for audiences on Earth.
Cosmonauts Alexey Ovchinin and Alexander Skvortsov researched cardiac activity in the station's Russian segment this morning. Afterward, Commander Ovchinin worked on communications gear before moving on to a space physics experiment. Skvortsov continued unloading the Soyuz MS-13 crew ship and updating the station's inventory system.
All six crewmates started Thursday morning measuring their body mass. A device applies a known force to a crewmember with the resulting acceleration providing an accurate value of their body mass in microgravity. The mass measurement principle is based on Newton's Second Law of Motion stating that force equals mass times acceleration.