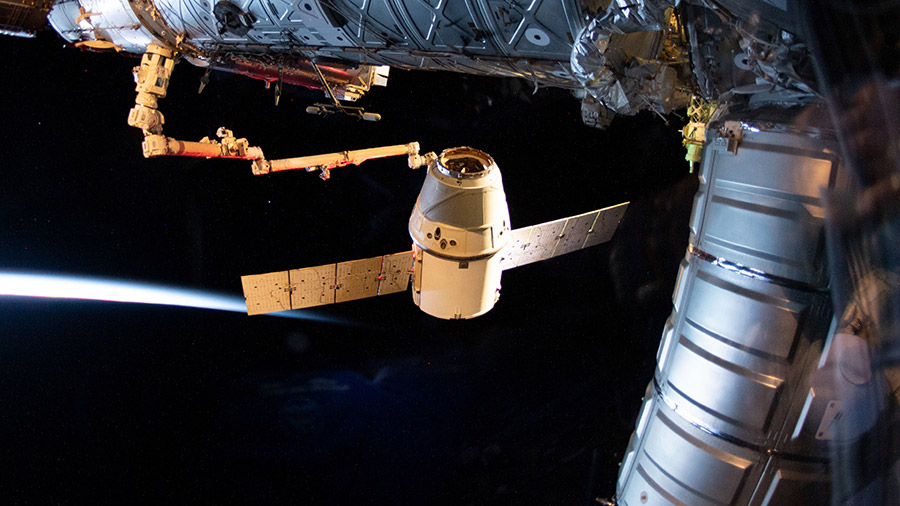 The SpaceX Dragon space freighter is on its way to the International Space Station following a Thursday launch from Florida. The six-member Expedition 60 crew will be waiting for the commercial cargo craft's arrival Saturday morning.
Dragon will rendezvous with the station Saturday morning reaching a point about 10 meters from the station. Flight Engineer Nick Hague will then command the Canadarm2 robotic arm to grapple the resupply ship about 10 a.m. EDT. Fellow NASA astronaut Christina Koch will back him up inside the cupola as NASA Flight Engineer Drew Morgan monitors Dragon's approach and rendezvous. NASA TV begins its live capture and installation coverage Saturday at 8:30 a.m.
The three NASA astronauts continued robotics training today and practiced techniques to capture the commercial space freighter. The trio conducted simulation capture runs on a computer today preparing for a variety of Dragon approach and rendezvous scenarios.
Dragon is delivering over 5,000 pounds of science experiments, crew supplies and vehicle hardware. This includes the International Docking Adapter-3 for installation during an upcoming spacewalk on the Harmony module's space-facing Pressurized Mating Adapter.
The Dragon-capturing trio later joined new crewmates Luca Parmitano and Alexander Skvortsov in the afternoon reviewing the spacecraft's payload configuration. They will be unpacking time-critical research samples for stowage in station science freezers and incubators to analyze microgravity's effect on biology.
Station Commander Alexey Ovchinin started Friday briefing his three newest crewmembers, who have been in space six days, on emergency hardware locations and procedures. The veteran cosmonaut then packed obsolete gear and trash inside a Russian resupply ship that is departing on Monday.