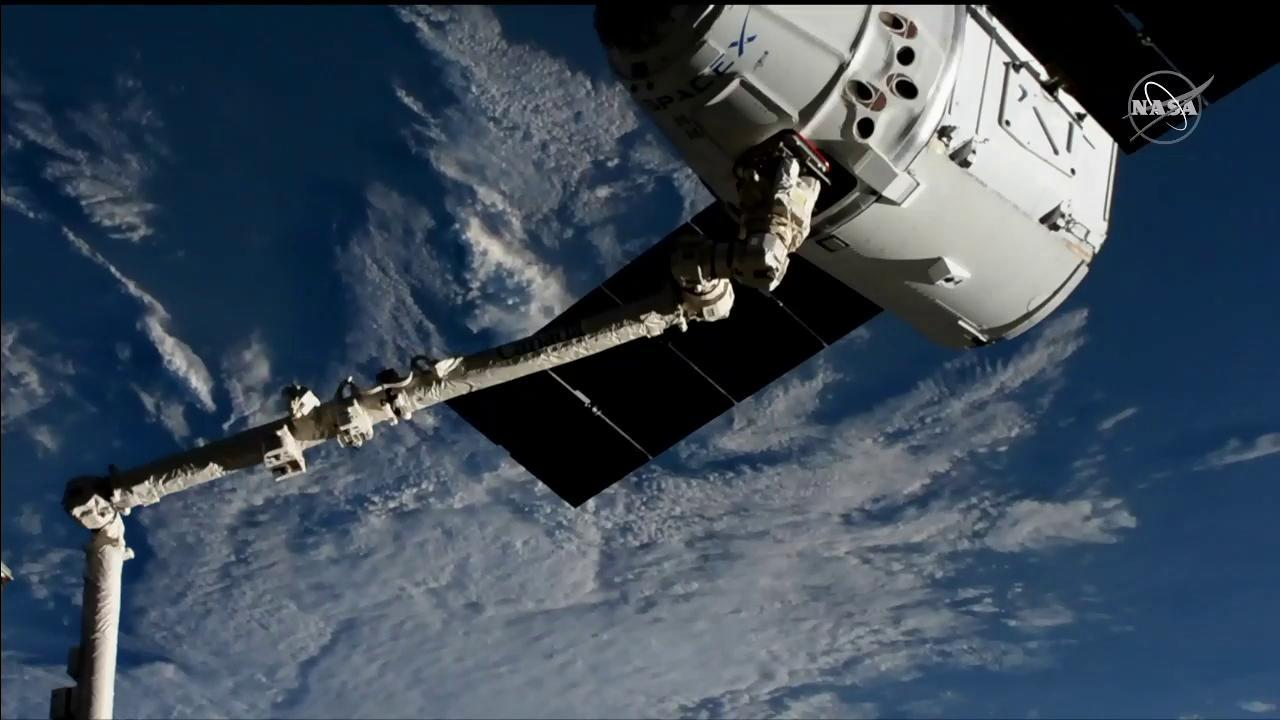 While the International Space Station was traveling more than 260 miles over southern Chile, astronauts Nick Hague and Christina Koch of NASA grappled Dragon at 9:11 a.m. EDT using the space station's robotic arm Canadarm2.
Ground controllers will now send commands to begin the robotic installation of the spacecraft on bottom of the station's Harmony module. NASA Television coverage of installation is scheduled to begin at 11 a.m. Watch online at www.nasa.gov/live.
The Dragon lifted off on a SpaceX Falcon 9 rocket from Space Launch Complex 40 at Cape Canaveral Air Force Station in Florida Thursday, July 25 with more than 5,000 pounds of research, equipment, cargo and supplies that will support dozens of investigations aboard the orbiting laboratory.
Here's some of the research arriving at station:
Bio-Mining in Microgravity
The Biorock investigation will provide insight into the physical interactions of liquid, rocks and microorganisms under microgravity conditions and improve the efficiency and understanding of mining materials in space. Bio-mining eventually could help explorers on the Moon or Mars acquire needed materials, lessening the need to use precious resources from Earth and reducing the amount of supplies that explorers must take with them.
Printing Biological Tissues in Space
Using 3D biological printers to produce usable human organs has long been a dream of scientists and doctors around the globe. However, printing the tiny, complex structures found inside human organs, such as capillary structures, has proven difficult to accomplish in Earth's gravity. To overcome this challenge, Techshot designed their BioFabrication Facility to print organ-like tissues in microgravity – a stepping stone in a long-term plan to manufacture whole human organs in space using refined biological 3D printing techniques.
Improving Tire Manufacturing from Orbit
The Goodyear Tire investigation will use microgravity to push the limits of silica fillers for tire applications. A better understanding of silica morphology and the relationship between silica structure and its properties could improve the silica design process, silica rubber formulation and tire manufacturing and performance. Such improvements could include increased fuel efficiency, which would reduce transportation costs and help to protect Earth's environment.
Keep up to date with the latest news from the crew living in space by following https://blogs.nasa.gov/spacestation/, @space_station and @ISS_Research on Twitter, and the ISS Facebook and ISS Instagram accounts.