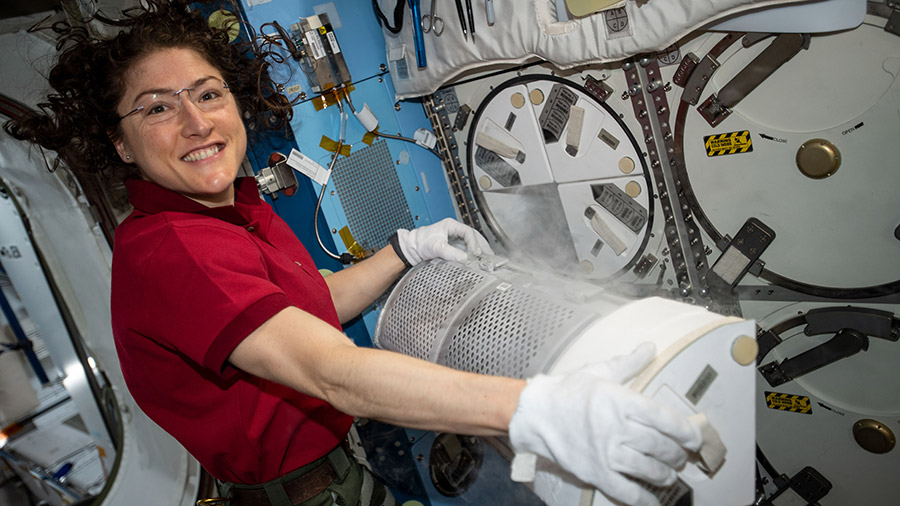 Human research kept the Expedition 60 crew busy today helping NASA and its partners understand how to keep astronauts healthy on long-term space missions. More spaceship activity is also coming up in September to ensure a well-stocked and fully staffed International Space Station.
NASA astronauts Nick Hague and Andrew Morgan continued researching how fluid shifts caused by microgravity induce vascular changes as well as head and eye pressure. The duo processed more blood and urine samples today for the ongoing study observing the potentially risky condition.
Doctors on the ground are exploring telemedicine as a way to examine astronauts orbiting Earth and farther in space. Flight Engineer Luca Parmitano of ESA (European Space Agency) set up and held a remotely controlled ultrasound scanner to his femoral artery for the Vascular Echo study today. A doctor on Earth then guided the device's motorized probes during the cardiovascular exam.
NASA Flight Engineer Christina Koch set up protein crystal samples for stowage inside an automated incubator. The research takes advantage of microgravity's weightlessness to support the development of advanced pharmaceutical therapies.
The Soyuz MS-14 spacecraft continues to be unpacked by cosmonauts Alexey Ovchinin and Alexander Skvortsov. They will soon load the crew ship back up with more cargo for return to Earth next week.
Another crew ship, the Soyuz MS-15, is being processed for its launch to the station on Sept. 25. Commander Oleg Skripochka will lead Flight Engineer Jessica Meir and Spaceflight Participant Hazzaa Ali Almansoori on a six-hour ride to their new home in space. The new trio along with their backups began two days of qualification exams today
In between the Soyuz missions, the H-II Transfer Vehicle-8 (HTV-8) is due to blast off Sept. 10 from the Tanegashima Space Center in Japan. It will take a four-day trip to the orbiting lab and deliver new batteries for the Port-6 truss power channels. It will be robotically captured and installed to the Harmony module for a month-long stay.