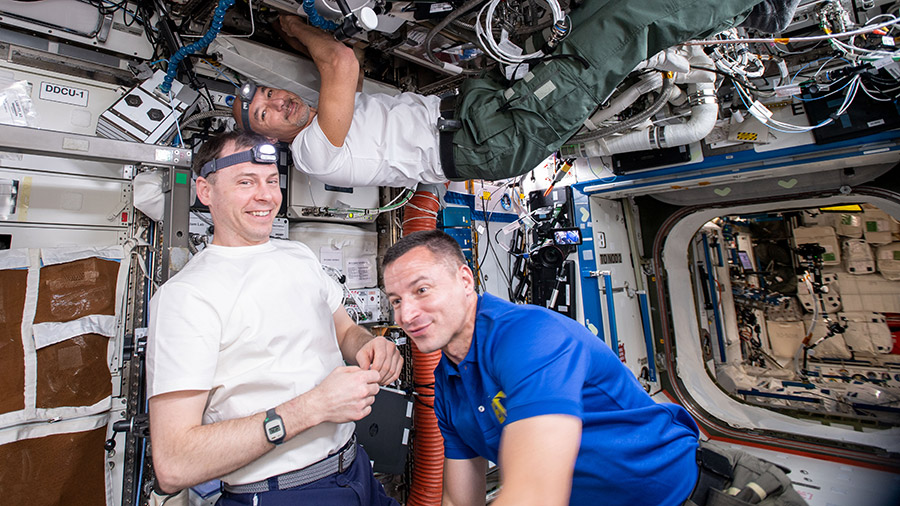 A U.S. resupply ship is packed and ready to depart the International Space Station on Tuesday. The Expedition 60 crew is also testing the viability of printing organ-like tissue and exploring the impact of microgravity on time perception today.
NASA astronauts Nick Hague and Christina Koch finished loading and closed the hatches to the Cygnus space freighter from Northrop Grumman today. Hague will lead the robotics activities and command its release from the Canadarm2 on Tuesday at 12:15 p.m. EDT. NASA TV begins its live broadcast of Cygnus' departure at noon after 109 days at the station.
The crew outfitted Cygnus with the SlingShot Deployer that will eject a series of nanosatellites once the spacecraft reaches a safe distance and a higher altitude from the station. Cygnus will continue orbiting Earth for a few more months of systems tests before it reenters the atmosphere above the Pacific Ocean for a fiery demise.
3-D bioprinting has proven a challenge for scientists on Earth seeking to replicate complex cellular structures. NASA astronaut Andrew Morgan is researching today whether the weightless environment of space may support the fabrication of human organs in space. He set up the station's new BioFabrication Facility to begin test-printing tissues today. An incubator houses the tissue samples to promote cohesive cellular growth over several weeks.
Flight Engineer Luca Parmitano of the European Space Agency started Monday collecting his blood samples and stowing them in a science freezer for later analysis. Next, he wore virtual reality goggles for an experiment testing his ability to judge the duration of time. Results are collected before, during and after a spaceflight to understand how time perception is affected in space. The impacts could potentially affect space navigation and other mission-oriented tasks.
Commander Alexey Ovchinin tested Russian smoke detectors, conducted a fit check of the Soyuz MS-12 crew ship seats and worked on space biology gear. Cosmonaut Alexander Skvortsov checked out video gear then studied how microgravity affects pain sensation.