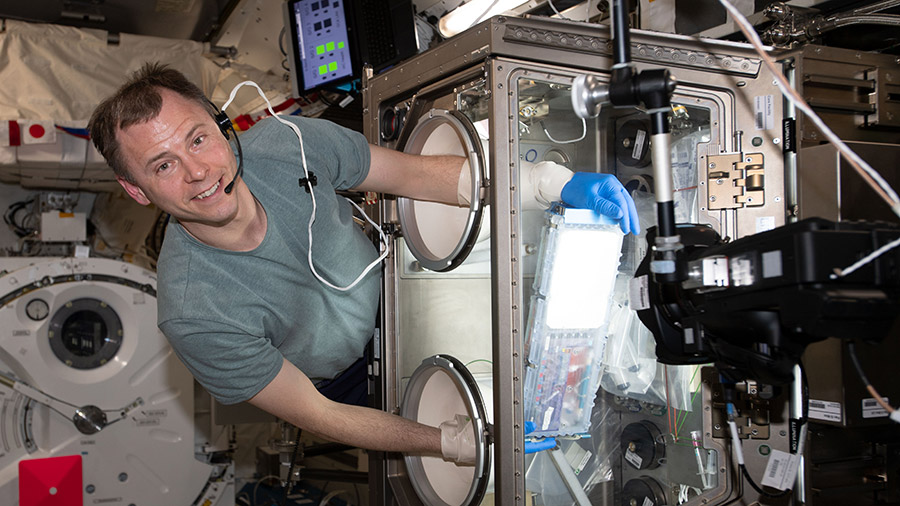 The International Space Station will soon see U.S., Russian and Japanese spaceships arriving and departing over the next several weeks. Meanwhile, the Expedition 60 crew is staying focused on an upcoming spacewalk while continuing ongoing microgravity research.
Next week's spacewalkers, NASA astronauts Nick Hague and Andrew Morgan, are reviewing their procedures and practicing their maneuvers on a computer today. The duo will exit the station Aug. 21 and install the station's second commercial crew vehicle docking port, the International Docking Adapter-3, to the Harmony module's space-facing port.
Morgan wrapped up his day setting up experiments designed by middle and high school students researching a variety of space phenomena. Luca Parmitano of the European Space Agency continued exploring stem cell differentiation. Christina Koch of NASA serviced and replaced hardware that fuels experiments inside the Combustion Integrated Rack.
Cosmonauts Alexey Ovchinin and Alexander Skvortsov worked during the morning tearing down a Russian atmosphere purification unit. The duo then moved on to cardiopulmonary research before winding down the day with exercise.
The next spacecraft to launch to the orbiting lab will be an unpiloted Soyuz MS-14 crew ship on Aug. 22. It will lift off from the Baikonur Cosmodrome in Kazakhstan for a test of its upgraded 2.1a Soyuz booster. The new Soyuz will automatically dock to the Poisk module two days later where it will stay until Sept. 6.
Russia will launch its next crewed mission Sept. 25 aboard the Soyuz MS-15 spacecraft. Cosmonaut Oleg Skripochka will lead the six-hour flight to the station with NASA astronaut Jessica Meir and Spaceflight Participant Hazzaa Ali Almansoori.
SpaceX is planning to retrieve its Dragon resupply ship on Aug. 27 when it splashes down in the Pacific Ocean after its release from the Harmony module. Dragon will return to Earth with several thousand pounds of completed science experiments for analysis and station hardware for servicing.
Finally, Japan's resupply ship, the H-II Transfer Vehicle-8 (HTV-8), is scheduled to blast off to the station Sept. 10 (U.S. time) from the Tanegashima Space Center. It will arrive at the station Sept. 14 for a robotic capture and installation to the same Harmony port Dragon will vacate at the end of the month. HTV-8's scheduled liftoff date comes exactly 10 years after the Japan Aerospace Exploration Agency launched its first HTV cargo freighter to the space station.