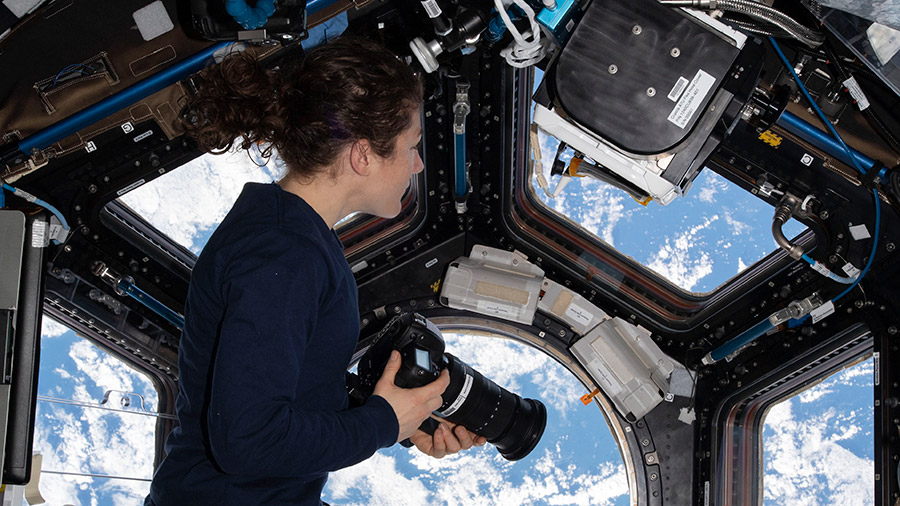 The Expedition 60 crew is busy conducting space research everyday inside the International Space Station. While they work, scientists and engineers on Earth can remotely control and observe experiments attached to the outside of the orbiting lab.
Researchers today concluded a run of the external Robotic Refueling Mission 3 experiment. Robotics controllers on the ground remotely guided the Dextre robotic hand, attached to the Canadarm2 robotic arm, and tested cryogenic refueling techniques in space. Refueling and repairing satellites and spacecraft supports NASA's objective of sending humans to the Moon, Mars and beyond.
Back inside the space station, the astronauts continued supporting human research activities. NASA astronauts Nick Hague and Andrew Morgan joined ESA (European Space Agency) astronaut Luca Parmitano for eye exams at the end of the day. Morgan also serviced a variety of science freezers holding experiment samples for analysis. Parmitano continued researching stem cell differentiation for the Micro-15 experiment.
Hague and Morgan are also getting ready for a spacewalk on Aug. 21. The duo spent a couple of hours Wednesday configuring spacewalking tools and tethers they will use next week. The spacewalkers' mission is to install a second commercial crew vehicle docking port, the International Docking Adapter-3, on top of the Harmony module. Briefers will discuss the spacewalk details on NASA TV beginning Friday at 2 p.m. EDT.
All six crewmembers, including NASA astronaut Christina Koch and cosmonauts Alexey Ovchinin and Alexander Skvortsov, participated in an emergency simulation during the afternoon. The station crew practiced the activities necessary to contain emergencies such as pressure and chemical leaks or a fire.
Two reboosts will occur overnight tonight to set up the correct phasing for the uncrewed Soyuz MS-14 34-orbit rendezvous next week and landing Sept. 6. The Soyuz and its 2.1a booster are scheduled to roll out to the Site 31 launch pad on Monday.
In Louisville, Colorado, Sierra Nevada Corporation announced the selection of United Launch Alliance as launch provider for the Dream Chaser spacecraft. Dream Chaser is scheduled to begin missions to transport cargo to and from the International Space Station in late 2021.