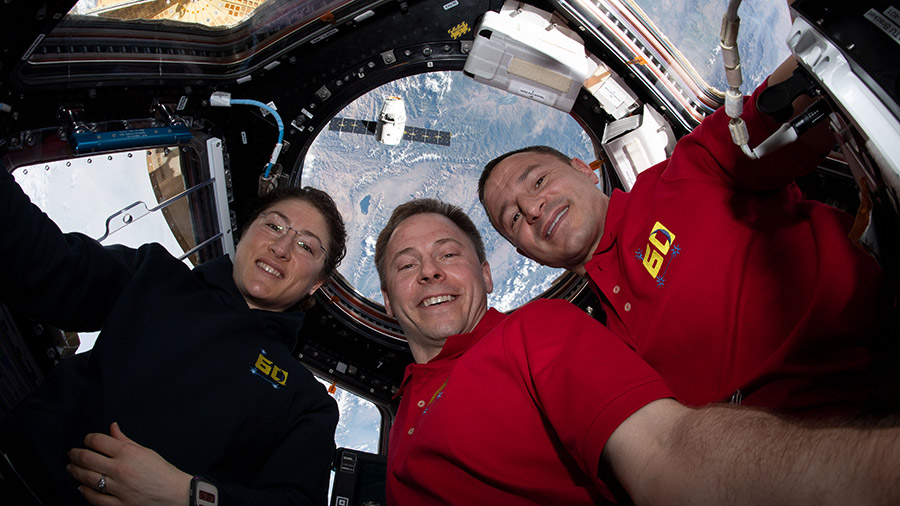 A new commercial crew docking port is in position on the International Space Station ready for installation during Wednesday's spacewalk. Russia is also counting down to the launch of an unpiloted Soyuz spacecraft to the orbiting lab just a few hours after tomorrow's spacewalk.
The Expedition 60 crew was asleep when the Canadarm2 robotic arm grappled and removed the International Docking Adapter-3 (IDA-3) from the rear of the SpaceX Dragon cargo craft. Robotics controllers then remotely guided the IDA-3 to the Harmony module's space-facing port and inspected it with the Canadarm2.
Spacewalkers Nick Hague and Andrew Morgan will set their spacesuits to battery power Wednesday at 8:20 a.m. EDT and exit the Quest airlock to finish installing the IDA-3. The duo will spend about six and a half hours routing cables and configuring the station's second Boeing and SpaceX crew vehicle docking port. NASA TV is broadcasting live the spacewalk starting Wednesday at 6:30 a.m. See an animation of their planned activities.
Commander Alexey Ovchinin with Flight Engineers Christina Koch and Luca Parmitano familiarized themselves with tomorrow's spacewalk procedures. Koch also prepared Hague and Andrew's installation tools and set up the IDA-3 control panel.
Parmitano moved on and continued researching cell differentiation for the Micro-15 investigation. Afterward, he photographed biofilm samples in the Kubik incubator for the BioRock space mining study that explores how microbes interact with rocks.
The Soyuz MS-14 spacecraft is standing at its launch pad in Kazakhstan preparing for a liftoff just a few hours after Hague and Morgan finish their spacewalk. The unpiloted vehicle will blast off Wednesday at 11:38 p.m. EDT and test its 2.1a booster segment during ascent. The Soyuz spacecraft will automatically dock to the station's Poisk module on Saturday at 1:30 a.m.