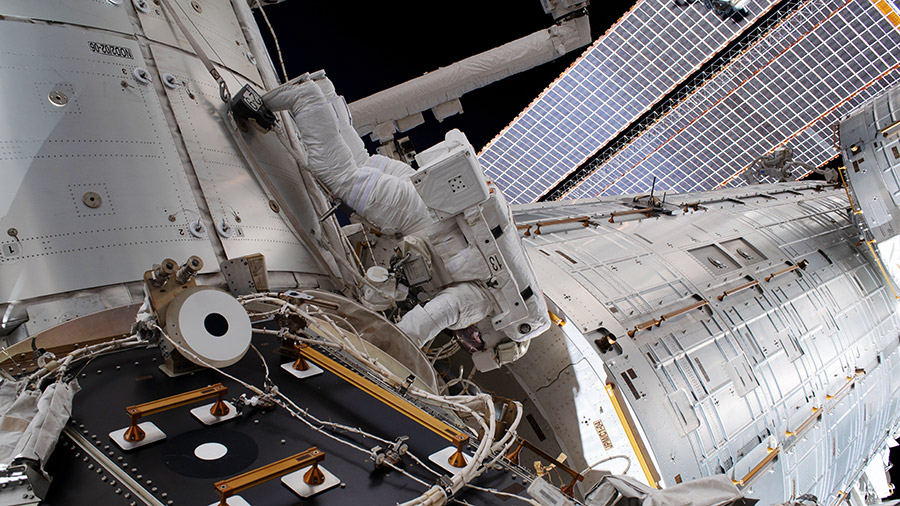 Russia's uncrewed Soyuz MS-14 spacecraft is on its way to the International Space Station following its launch just a few hours after Wednesday's spacewalk. The Expedition 60 crew is back on a full science schedule today and preparing to send a U.S. cargo craft back to Earth.
NASA astronauts Nick Hague and Andrew Morgan called down to Mission Control today to discuss yesterday's spacewalk when they installed the station's second commercial crew vehicle docking port, the International Docking Adapter-3. The duo, including NASA Flight Engineer Christina Koch, talked about normal technical issues and task challenges they faced before, during and after the spacewalking job.
Koch spent most of Thursday tending to lab mice living aboard the station. Scientists seek therapeutic insights not possible on Earth by observing the rodents due to their genetic similarity to humans.
Hague spent a portion of his day contributing to experiments designed by middle and high school students researching a variety of space phenomena. Luca Parmitano of ESA (European Space Agency) continued exploring ways to manufacture safer, more fuel-efficient tires before moving on to more cell differentiation research.
Morgan is preparing the SpaceX Dragon cargo craft for its return to Earth next week. The crew will be packing Dragon over the weekend and into Monday with the results of numerous space experiments for analysis. Robotics controllers will command the Canadarm2 to release Dragon from its grips on Tuesday at 10:42 a.m. EDT. It will splashdown in the Pacific Ocean off the coast of southern California a few hours later for retrieval by SpaceX personnel.
The first unpiloted Soyuz spacecraft launched yesterday from Kazakhstan about nine hours after Hague and Morgan completed their spacewalk. The Soyuz MS-14 is orbiting Earth today headed toward the station following a successful 2.1a booster test during its ascent. Commander Alexey Ovchinin and Flight Engineer Alexander Skvortsov will monitor its automated approach and rendezvous when it docks Saturday to the Poisk module at 1:31 a.m. EDT.