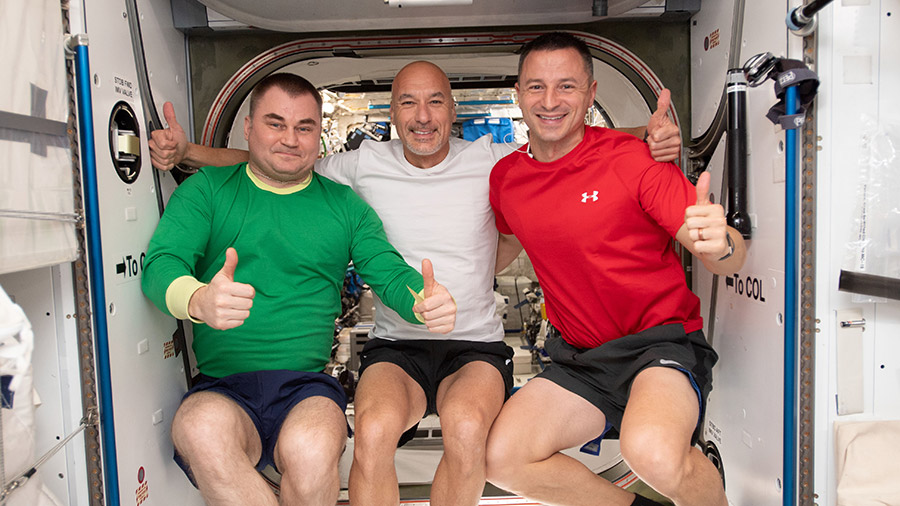 The Expedition 60 crew is continuing ongoing space science today and packing a U.S. resupply ship for departure next week. Russia's first unpiloted Soyuz spacecraft is also on its way to the International Space Station where it will dock early Saturday morning.
Four astronauts, Luca Parmitano of ESA (European Space Agency) with Christina Koch, Andrew Morgan and Nick Hague, all from NASA, are readying the SpaceX Dragon for its return to Earth. They will be packing Dragon with cargo and completed space experiments all weekend and into Monday.
Ground controllers will remotely command the Canadarm2 robotic arm to detach Dragon from the Harmony module before releasing it into orbit on Tuesday at 10:42 a.m. EDT. SpaceX personnel will retrieve Dragon from the Pacific Ocean after its splashdown off the coast of southern California a few hours later. NASA TV begins its live broadcast of Dragon's departure on Tuesday at 10:15 a.m.
A multitude of space experiments is continuing aboard the orbiting lab today. Hague explored how moss grows in microgravity to inform self-sustaining human missions to the Moon and Mars. Koch serviced 3D printed tissue samples for a study investigating printing human organs in space. Parmitano researched cell differentiation to help doctors design medical therapies for humans on Earth and in space. Finally, Morgan collected and spun his blood samples in a centrifuge before stowing them in a science freezer for analysis.
The two cosmonauts, Alexey Ovchinin and Alexander Skvortsov, will be up early Saturday several hours before the rest of their crewmates. They will be monitoring the automated arrival of the Soyuz MS-14 spacecraft set to dock to the Poisk module at 1:31 a.m. EDT Saturday. It will stay there for two weeks before undocking and parachuting to a landing in Kazakhstan with no crew onboard Sept. 6.