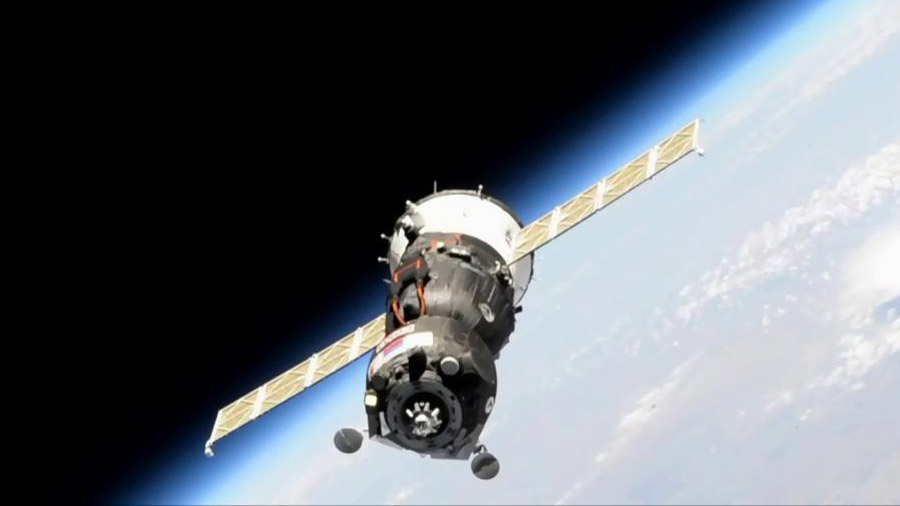 International Space Station managers and the international partners met on Saturday and approved a plan to allow a second rendezvous and docking attempt for the unpiloted Soyuz MS-14 spacecraft to occur on Monday night. The Soyuz' initial docking attempt early Saturday was aborted after what Russian officials said was a suspected problem with a component associated with the Kurs automated rendezvous system for the Poisk module docking port.
The Soyuz was commanded to back away from the station after approaching to within 100 meters of Poisk when the vehicle could not achieve a solid telemetry lock to that docking port through the automated rendezvous system. The unpiloted Soyuz is currently orbiting a safe distance from the ISS with all of its systems functioning normally. The six crewmembers on board the station were never in any danger during the initial rendezvous attempt.
Plans now call for the unpiloted Soyuz to execute a second docking attempt Monday night at 10:12 p.m. Central time, 11:12 p.m. Eastern time, but this time to the aft port of the Zvezda Service Module. The Kurs system on Zvezda has been checked out and is in perfect working order. NASA TV coverage of the docking Monday night will begin at 9:30 p.m. Central time, 10:30 p.m. Eastern time.
To accommodate the new plan, Expedition 60 crewmembers Alexander Skvortsov of Roscosmos, Luca Parmitano of the European Space Agency and Drew Morgan of NASA will don their Russian Sokol launch and entry suits Sunday night, climb aboard their Soyuz MS-13 spacecraft which docked to Zvezda on July 20 and undock for a 25-minute Soyuz relocation maneuver and a manual docking by Soyuz commander Skvortsov to the Poisk module. The suspect Kurs rendezvous unit component for Poisk is not a factor for the relocation maneuver by Skvortsov and his Soyuz crewmates.
NASA TV coverage of the relocation will begin Sunday night at 10 p.m. Central time, 11 p.m. Eastern time. Undocking of the Soyuz MS-13 spacecraft from Zvezda is scheduled at 10:34 p.m. Central time, 11:34 p.m. Eastern time with redocking to Poisk scheduled at 10:59 p.m. Central time, 11:59 p.m. Eastern time.
It would be the first Soyuz relocation since August 2015 when Gennady Padalka and Mikhail Kornienko of Roscosmos and NASA's Scott Kelly conducted a similar operation, but in reverse, flying their Soyuz TMA-16M spacecraft from Poisk to Zvezda.
The docking of the unpiloted Soyuz Monday night will preserve the robotic release of the SpaceX Dragon cargo craft Tuesday morning after a four-week stay at the station. Dragon will be deorbited for a parachute-assisted splashdown several hours later in the Pacific Ocean, bringing home cargo and valuable scientific experiments from the orbital laboratory.