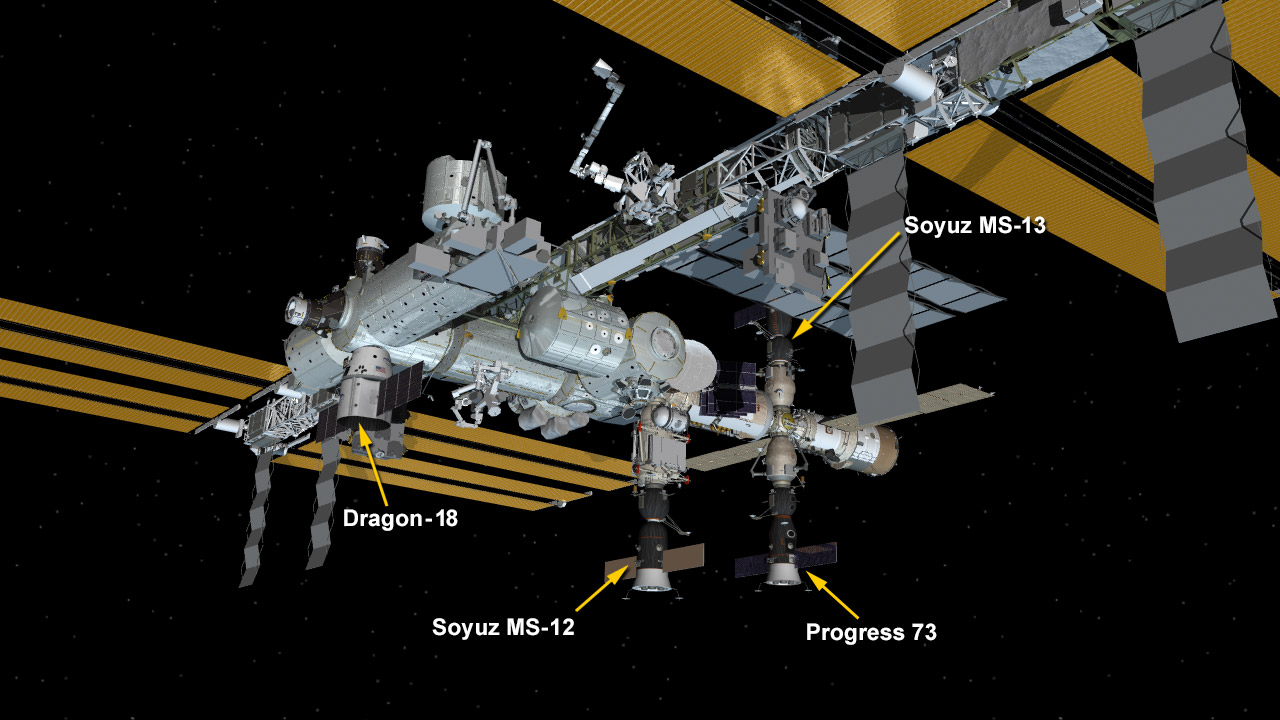 An unpiloted Russian spacecraft is ready to make a second docking attempt tonight as a U.S. resupply ship is preparing for its departure Tuesday. This follows Sunday night's relocation of a Soyuz crew ship at the International Space Station.
Three Expedition 60 crewmembers swapped docking ports in their Soyuz MS-13 crew ship late Sunday. Soyuz Commander Alexander Skvortsov, with Flight Engineers Andrew Morgan and Luca Parmitano seated next to him, backed the Soyuz away from the Zvezda service module at 11:35 p.m. EDT on Sunday and pulled their vehicle into the Poisk module just before midnight.
The relocation opens up Zvezda's docking port, with its fully operable Kurs automated rendezvous system, to receive the uncrewed Soyuz MS-14 spacecraft today at 11:12 p.m. The MS-14 has been safely trailing the station by over 160 miles after its aborted docking attempt Saturday due to a faulty automated rendezvous component on Poisk.
Morgan and fellow NASA astronauts Christina Koch and Nick Hague are getting the SpaceX Dragon space freighter ready for its release from the Harmony module on Tuesday morning. Ground controllers in Houston will remotely command the Canadarm2 robotic arm to release Dragon from its grips Tuesday at 10:42 a.m. It will splashdown in the Pacific Ocean off the coast of southern California a few hours later for retrieval by SpaceX personnel.
NASA TV is covering all of the spaceship docking and departure activities live. Soyuz MS-14 docking coverage begins tonight at 10:30 p.m. Dragon release coverage begins Tuesday at 10:15 a.m. Dragon splashdown will not be broadcast.