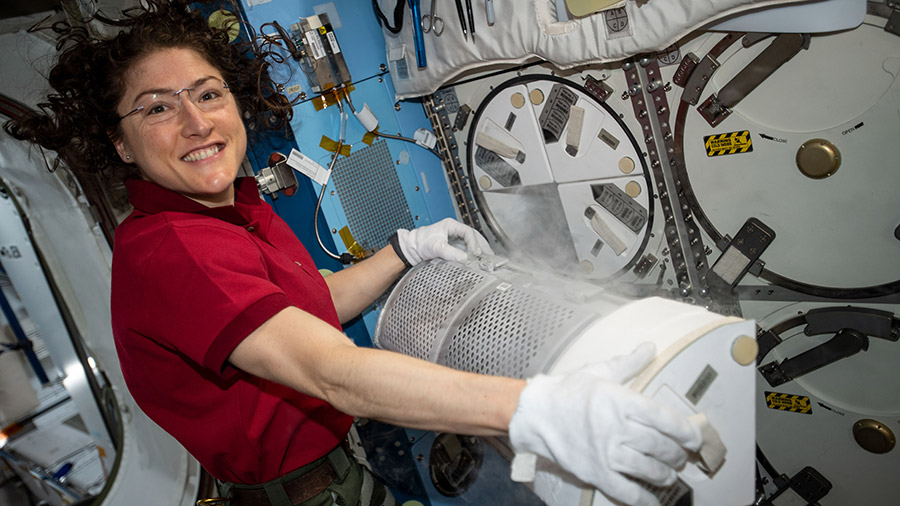 The Expedition 60 crew is back on track with ongoing space research today after coordinating a flurry of space traffic at the International Space Station. The astronauts are also continuing to clean up after last week's spacewalk.
The SpaceX Dragon is back on Earth after splashing down Tuesday afternoon in the Pacific Ocean. The commercial space freighter delivered critical science experiments to the station last month and returned samples for scientists around the world to analyze.
Flight Engineers Andrew Morgan of NASA and Luca Parmitano of ESA (European Space Agency) took turns today organizing spacewalking tools in the U.S. Quest airlock. Morgan also cleaned cooling loops inside the U.S. spacesuits he and fellow astronaut Nick Hague wore last week to install the International Docking Adapter-3.
Parmitano also documented his meals today for a space nutrition study sponsored by ESA. Living in microgravity for a long time impacts the body and nutritionists are seeking the ideal diet to maintain astronaut health.
Astrobee, the free-flying robotic assistant, was testing and calibrating its mobility today inside Japan's Kibo laboratory module as NASA astronaut Christina Koch monitored. She also printed new station emergency procedures to accommodate a pair of Russian Soyuz crew ships that were required to switch docking ports.
The hatches are open on the Soyuz MS-14 spacecraft after its automated docking to the Zvezda service module Monday night. Cosmonauts Alexey Ovchinin and Alexander Skvortsov will be unloading space cargo from the MS-14 over the next several days before packing it with return gear. The Soyuz will parachute back to Earth in Kazakhstan with no crew onboard and carrying cargo on Sept. 6.