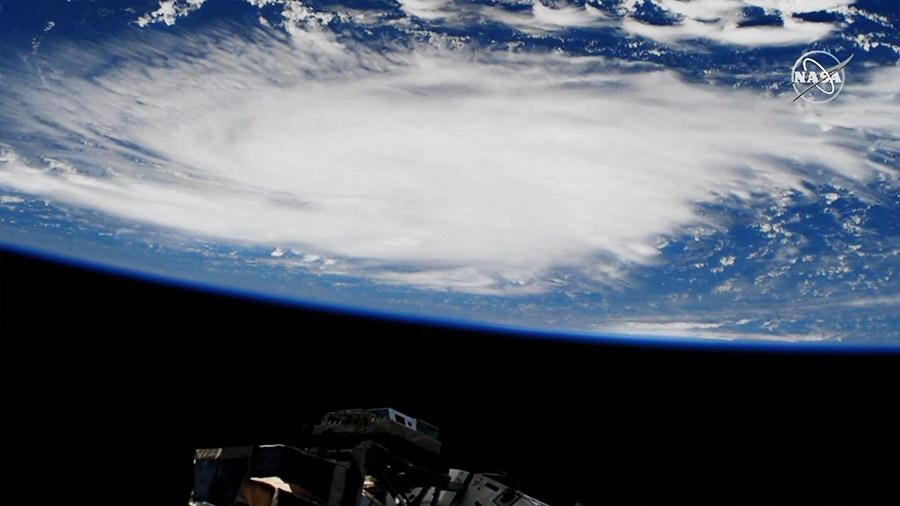 The Expedition 60 crew focused on a variety of biomedical research and life science activities aboard the International Space Station today. The astronauts are still cleaning up after last week's spacewalk while preparing for an upcoming Japanese cargo mission.
Flight Engineers Nick Hague and Andrew Morgan spent Thursday morning collecting their blood, urine and saliva samples. The samples are being processed and analyzed for the Fluid Shifts study. The long-running research explores vascular changes including head and eye pressure caused by living in microgravity.
Morgan moved on and continued organizing a multitude of tools used during a spacewalk last week to install a new commercial crew docking port. During the afternoon, he joined astronaut Luca Parmitano for eye pressure measurements using a tonometer.
Hague set up a 3D camera in the Harmony module and videotaped a cinematic virtual reality experience of himself at work for Earth audiences. He finally tested a communications panel that will send commands to Japan's HTV-8 cargo craft planned to arrive at the station in mid-September. The HTV-8 will deliver new batteries for the station's Port-6 truss power channels.
NASA astronaut Christina Koch checked on mice studied in space for their genetic similarity to humans and potential therapeutic insights. She also discussed with a nutritionist on the ground how the food aboard the orbiting lab affects her appetite.
Cosmonauts Alexey Ovchinin and Alexander Skvortsov explored microbes in the Russian side of the station to learn how to fight space viruses and spacecraft contamination. The duo then continued unpacking cargo from the Soyuz MS-14 spaceship that arrived Monday night.
Another crew ship, the Soyuz MS-15, is being processed for its launch to the station on Sept. 25. Commander Oleg Skripochka will lead Flight Engineer Jessica Meir and Spaceflight Participant Hazzaa Ali Almansoori on a six-hour ride to their new home in space. The new trio along with their backups began two days of qualification exams today .