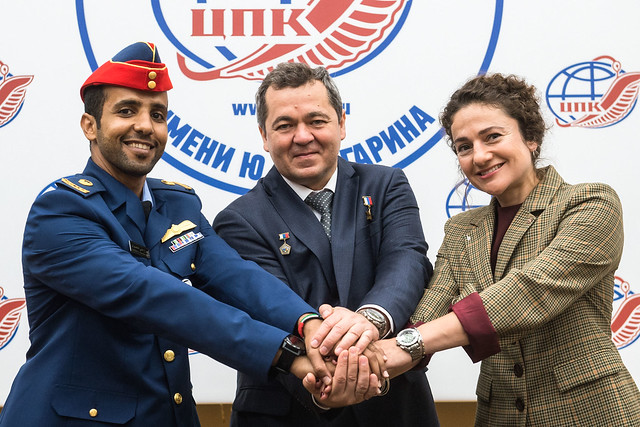 The International Space Station is abuzz as preparations heat up for the launch of the Japan Aerospace Exploration Agency HTV-8 "Kounotori" cargo craft from the Tanegashima Space Center tomorrow, Sept. 10. Launch is slated for 5:33 p.m. EDT, and can be seen live on NASA Television.  
NASA astronauts Christina Koch and Andrew Morgan spent more time practicing 30-meter approach and capture runs, followed by their own evaluations, in preparation for HTV-8's arrival days later on Saturday, Sept. 14. The vehicle will be loaded with more than four tons of supplies, spare parts and experiment hardware for the space station residents.  
In the Kibo module, Morgan spoke to media out of Morgantown, West Virginia, referencing not only of NASA's future with the Artemis program, but also the work currently underway that will benefit life on Earth and expand humanity's reach into the solar system. Morgan referenced his early morning tasks with Fluid Shifts and his first spacewalk just weeks before, when he and NASA astronaut Nick Hague installed International Docking Adapter to usher in a new era of commercial visiting vehicles that will launch from American soil.  
Science investigations that will help develop countermeasures for humans exploring deep space, and for longer durations, rounded out the busy Monday. Commander Alexey Ovchinin of Roscosmos and crewmates Koch and Hague conducted eye exams aboard the orbiting laboratory. Since it is known that living and working in microgravity can induce vascular changes, as well as head and eye pressure, these measurements will help medical experts and scientists on the ground track crew health as Expedition 60 continues. Furthering research for Fluid Shifts, all other crewmates, with the exception of Koch and ESA (European Space Agency) astronaut Luca Parmitano, conducted venous ultrasounds in support of ongoing studies into vascular and fluid movement within space-faring human bodies. 
Parmitano, meanwhile, worked to close out Space Moss, an experiment that helps decode how microgravity affects the growth, development, gene expression and photosynthetic activity of tiny, rootless moss plants growing within the Cell Biology Experiment Facility incubator on the orbiting laboratory.  
Back on Earth, cosmonaut Oleg Skripochka, NASA astronaut Jessica Meir and spaceflight participant Hazzaa Ali Almansoori are set to depart for the Baikonur Cosmodrome in Kazakhstan tomorrow after spending the week prior taking part in ceremonial activities and mission briefings leading up to their mission start on Sept. 25, when they launch into space aboard a Soyuz MS-15 spacecraft. 
Learn more about station activities by following the space station blog, @space_station and @ISS_Research on Twitter, as well as the ISS Facebook and ISS Instagram accounts.