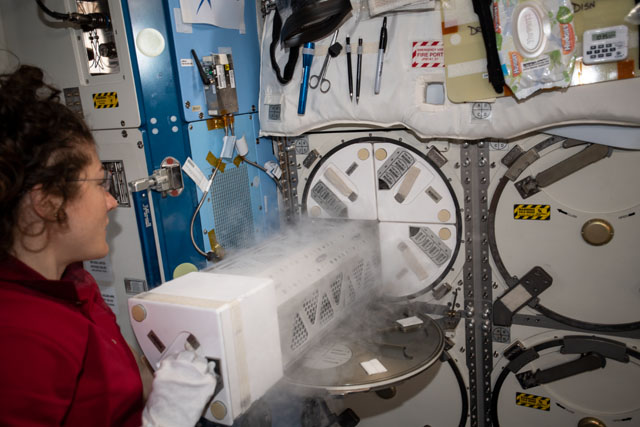 The crew of Expedition 60 devoted their Friday to working on groundbreaking scientific research aboard the International Space Station, as well as inspiring the Artemis generation during a downlink hosted by the National STEM Cell Foundation. 
Flight Engineers Nick Hague and Andrew Morgan of NASA took the mantle of fielding selected questions from 39 middle school classrooms nationwide during the space-to-Earth call at 10:55 a.m. EDT. The downlink, hosted by the National STEM Cell Foundation at the Kentucky Science Center, allowed classes that are part of the National STEM Scholar Program to get a firsthand look at what it's like to live and work in microgravity, with the crewmates providing anecdotes from their time in space. 
Hague and Morgan, along with NASA astronaut Christina Koch and Luca Parmitano of (European Space Agency), further investigated the effects of spaceflight on rodent residents with Rodent Research-17, evaluating the changes caused by microgravity to their immunity, cells, bones and musculature. These findings will bolster discoveries for new therapies — both in space and back on Earth. 
Koch also performed experiment maintenance, installing a sample cartridge into the Cryo Chiller within an Expedite the Processing of Experiments to Space Station (EXPRESS) locker. This unique chiller provides rapid freezing capability in support of biological sciences, as well as temperature-controlled transfer to and from the space station on visiting vehicles. 
Hague and Koch captured cinematic recordings of Morgan working on the Microgravity Crystals experiment for ISS Experience, a virtual reality series will educate to Earth audiences on what Expedition crew members do each day in support of operations and research. The experiment will illustrate how microgravity can be helpful in learning about diseases on Earth through the crystallization of a membrane protein integral to tumor growth and cancer survival. While the crystallization of this protein has yielded unsatisfactory results in gravity, Microgravity Crystals leverages the absence of gravity for extensive protein crystallization work onboard, significantly increasing the likelihood of successful crystal growth. Forthcoming results may support the development of cancer treatments that target the protein more effectively, and with fewer side effects. 
Commander Alexey Ovchinin of Roscosmos joined his American teammates in conducting routine eye ultrasounds. Since long-duration space missions have been shown to cause severe and lasting physical damage to some astronauts' eyes, continued monitoring of eye health is necessary to mitigate any noticeable effects for the crew.